Fellows Riverside Gardens light up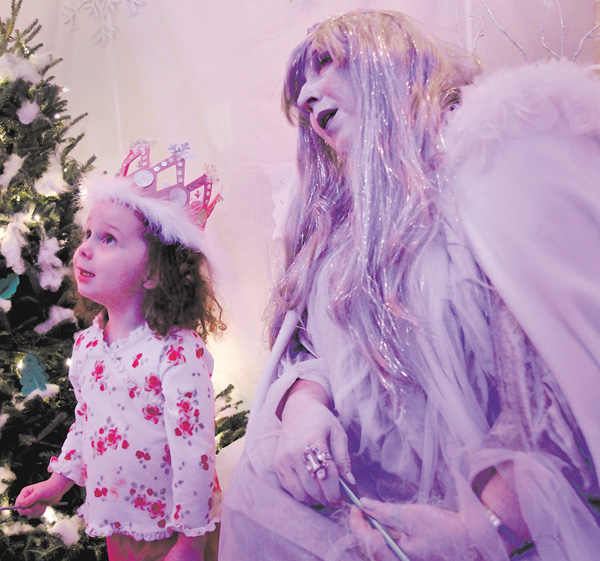 ---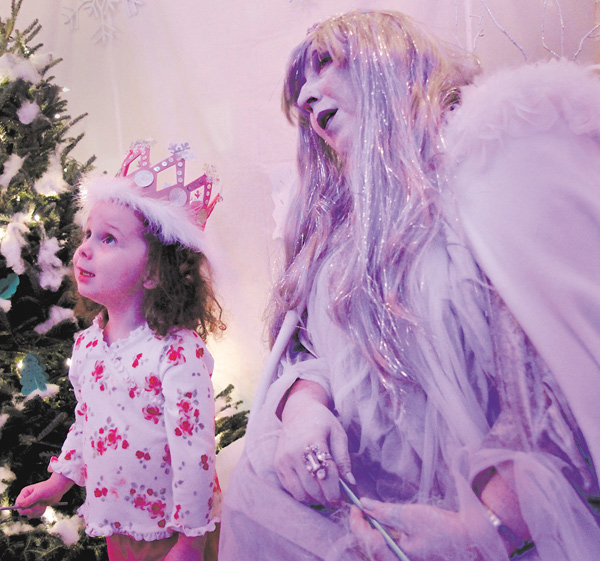 Photo
Norah Baker, 3, of Hubbard, makes a wish for snow with Snow Queen Barbara Root during Winter Nights on Sunday at Mill Creek MetroParks' Fellows Riverside Gardens.
By Denise Dick
Youngstown
Five-year-old Natalie Norden donned the Snow Queen crown just as if it was made for her.
Natalie, her grandmother, Audrey Martin, and Martin's fiance, Charlie Fox, of North Benton, were among visitors Sunday to Winter Nights at Fellows Riverside Gardens in Mill Creek MetroParks.
The Snow Queen, portrayed by Barbara Root of Campbell, dressed all in white with silver icicles in her hair, sat on her throne allowing the young and young-at-heart a chance to wear the crown and pose for photographs.
"Wave the wand like this," Root directed Natalie who followed.
"Now it's going to snow on Tuesday," she said.
Winter Nights runs from 5 p.m. to 7 p.m. Dec. 16 and Dec. 23 at the gardens. Features include illuminated garden paths, music, cookies and cocoa and Christmas trees decorated by various community organizations throughout the D.D. and Velma Davis Education and Visitors Center.
Sunday's entertainment was provided by dancers from the Burke School of Irish Step Dance.
Keith Kaiser, horticulture director, estimated that 500 people would come through the gardens Sunday, the first night. Last year's three nights drew about 3,500 people.
It attracts mostly families.
"It's free and it's a community event," Kaiser said. "It's a way to connect people with plants. It's plants and trees lit up out in the gardens. You're not going to see choo-choo trains."
This year, the gardens feature a laser light show to entertain people as they stroll through.
This marks the second year for Winter Nights although it evolved from Gardens By Candlelight, which started in 2001, the year after the center opened.
Because of unpredictable weather, torches and twinkling lights were added to the luminaires to ensure paths remain well lit.
Winter Nights is part of the gardens' monthlong The Snow Garden where from 10 a.m. to 5 p.m., Tuesdays through Sundays, visitors may check out the holiday trees and holiday floral display inside the center.
Christine Malloy of Hubbard and her two children, Casey, nine months, and Carter, 2, enjoyed the trees with their varied holiday decor.
It's the first time she's been to the Winter Nights event although she and her family visit the park five to six times each year, mostly in the warmer months, viewing the flowers, walking the trails or using the paddle boats.
"It's a nice park," Malloy said. "It's surrounded by kind of an economically-depressed area, but it's like a gem in the middle of it."