Browns' Benjamin zaps drained Chiefs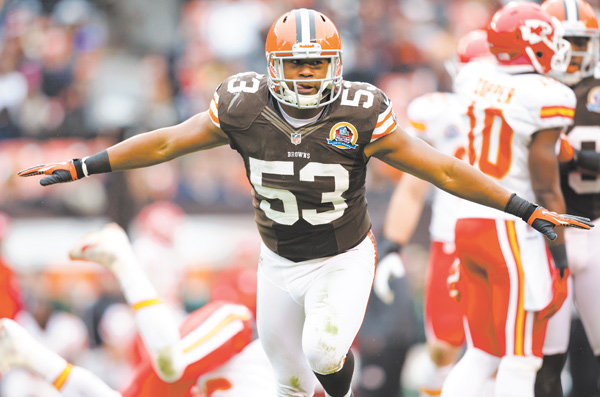 Photo
Cleveland Browns linebacker Craig Robertson (53) celebrates after making a tackle against the Kansas City Chiefs during an NFL game in Cleveland on Sunday. The Browns won 30-7.
Associated Press
CLEVELAND
Defensive end Juqua Parker emerged from the trainer's room and headed to his locker singing a tune — one that might sum up the current Browns.
"We're not gonna take it," Parker said, repeating the chorus to Twisted Sister's 1980s hard rock anthem. "We're not gonna take it ... anymore."
The Browns are tired of losing.
Rookie Travis Benjamin's electrifying 93-yard punt return touchdown early in the second quarter swung momentum in Cleveland's favor and the Browns won their third straight, 30-7 over the emotionally drained Kansas City Chiefs on Sunday.
Benjamin's game-changer helped the Browns (5-8) continue their resurgence under second-year coach Pat Shurmur, whose future in Cleveland remains uncertain.
With three games left, the Browns, who opened this season 0-5, have surpassed their win total from last season and have their longest winning streak since 2009.
"It's all kind of coming together," said 14-year veteran kicker Phil Dawson, who booted three field goals. "We're just doing all the little things right now. Guys are hungry to come back to work every day. There's some energy around here that I haven't felt. This is all good."
Rookie running back Trent Richardson had two 1-yard TD runs for the young-and-improved Browns, whose 23-point margin of victory was their largest since 2003 — a significant accomplishment for a franchise with 11 double-digit loss seasons since 1999.
"It's been a long year," linebacker D'Qwell Jackson said. "At first, it was rocky. We were in a lot of close ballgames and we weren't able to finish, and now we're starting to create something. We had some young guys at the beginning of the season that were a little immature, and they've grown up a little bit.
"We have something going right now."
Jamaal Charles ran for 165 yards, breaking off an 80-yard TD run on the game's first play for Kansas City, playing its road game after linebacker Jovan Belcher's suicide. The 25-year-old killed his girlfriend, Kasandra Perkins, at their home before driving to the team's practice facility on Dec. 1 and shooting himself.
Richardson's second TD early in the fourth quarter gave the Browns a 27-7 lead and finally put away the Chiefs (2-11), who a week ago were able to pull together and win at home over Carolina, less than one day after Belcher's unspeakable act.
Coach Romeo Crennel rallied his team through the difficult ordeal, but it may have been too much to expect the Chiefs to repeat last week's performance. Their practice schedule was adjusted during the week to attend a service for Belcher, and the days of reflection and grief may have taken a toll.
"It is going to be with some guys the rest of their lives," quarterback Brady Quinn said. "But it was not a distraction because we live to play football. We just didn't play an all-around football game like we did last week."
Dawson kicked field goals of 23, 24 and 34 yards for the Browns, 3-1 since the open week with the loss at Dallas in overtime. Dawson's first kick made him the 25th player in NFL history to make 300 field goals.
Benjamin's 93-yard punt return — the longest in team history — gave the Browns a 10-7 lead.
Just before the snap, Benjamin lined up to block Kansas City's gunner before sprinting 50 yards and switching spots with Josh Cribbs, who rushed up the middle. Benjamin fielded the kick inside his 10, cut sharply left, picked up a few key blocks and outran the rest of Kansas City's coverage unit.