Pulaski, Pa. nativity sets owned by nuns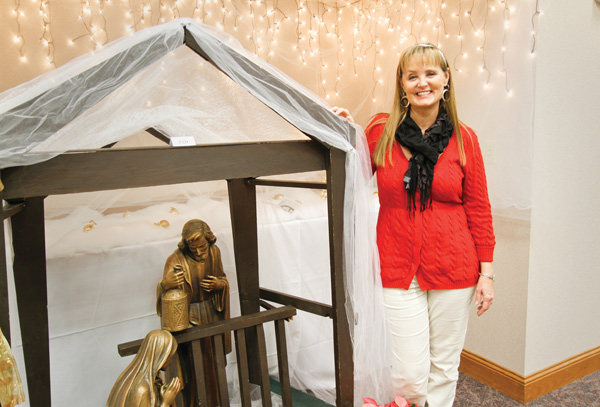 Photo
Julie Arena, marketing director at the Villa Maria Community Center, poses with the largest Nativity scene on display, which is used every year by the Sisters in Magnificat Chapel.
PHOTOS and STORY
By MADELYN P. HASTINGS
PULASKI, Pa.
A total of 245 Nativity scenes from around the world filled the Villa Maria Community Center in this small western Pennylvania community for two short weekends.
The displays took place Dec. 1-2 and Saturday and Sunday.
Villa Maria is a convent to 160 nuns, and 80 percent of the Nativity sets belong to them. The rest of the sets are donated by family, friends and community members.
Because the convent is open to the public for only two events annually, the display brings in thousands of guests.
Julie Arena, marketing director, said, "It is just a really neat tradition. The people who donate sets are so moved by the worldwide traditions and histories."
One particular Nativity scene is carved out of a shell from the Red Sea, and another was created entirely out of volcanic ash from the 1991 eruption of Mount Pinatubo.
"It is an artistic interpretation of the story of the birth of Christ from every culture," Arena explains. "This is why we celebrate this time of year. We are all one."
A woman serving time in an Ohio prison took the time to make a set by hand. Without the use of tools or brushes, she used a papier-mache technique to create a unique Nativity scene. As one of the newest on display, it is one of the most inspiring to the sisters and guests, Arena said.
"The point is that this time of year, instead of commercializing the season, it is a way of telling people the religious story," Arena said. "It shows every culture's perception of the [Christmas] story, and it is really interesting."