Brittany Williams crowned Miss Cinderella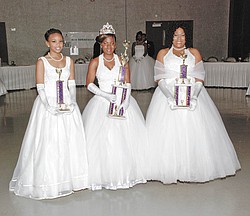 Photo
The Cinderella Ball Court are pictured from left, Donielle Lisbon, second attendant; Brittany Williams, Miss Cinderella; and Jade Colyar, first attendant.
Staff report
BOARDMAN
The Junior Civic League of Youngstown sponsored its 57th annual Cinderella Ball on Nov. 23 at Mr. Anthony's Banquet Center, where more than 450 witnessed the crowning of Brittany Alexandria Williams of Campbell Memorial High School as the 2013 Miss Cinderella.
Named to her court were Jade Colyar, Liberty High School, as first attendant and Donielle Lisbon, Struthers High School, as second attendant.
Brittany is the daughter of Brenda L. Gray-Morgan and Oscar Williams.
The three winners will be awarded scholarships in June at the Junior Civic League Scholarship luncheon. Brittany will receive a $2,500 scholarship; Jade, a $1,800 scholarship; and Donielle, a $1,500 scholarship.
All 10 debutantes, their high schools, prospective colleges and majors are as follows:
• Kiaria L. Ballinger, Youngstown Early College; Kent State University to major in music, art and design and international marketing.
•Anai' L. Bennett, Youngstown Christian High School; Hiram College, pre-medicine or early childhood education.
• Alicia S. Clark-Williams, Austintown Fitch High School; Miami of Ohio University, biotechnology.
• Jade A. Colyar, Liberty High School, University of Toledo, forensic science.
• Kasiona T. Greer, Cardinal Mooney High School; college undecided, diagnostic medical stenography.
• Kiara A. Jones, Youngstown Early College; Youngstown State University, dance and business management.
• Donielle C. Lisbon, Struthers High School; University of Toledo, pre-law, with a minor in communications.
• Emontae T. Mendenhall, East High School; undecided, fashion and merchandising.
• Brittany A. Williams, Campbell Memorial High School; Akron University, civil and environmental engineering.
• Kierra A. Winford, Cardinal Mooney; University of Toledo, pre-pharmacy.
The 2012 escorts were Melvin Gregory and Brandon Abell, Youngstown Christian School; Andre Berger and Tarise Wolfe, Youngstown State University; Lamont McDowell and Darrien Underwood, Liberty High School; Jabril White, Girard High School; Denzel Beaver, Warren G. Harding High School; Ramone Elkins, Patrick Johnson and Daiquon Richardson, East High School; Ryan Stoddard, Campbell Memorial High School; and Tim Sharp, Chaney High School.
This year's ball was in memory of Bre' Ana Murray, who died last month. She and her cousin, Kiara Jones, were honorary debutantes this year because their grandmother, Nancy Murray, is a Junior Civic League sustaining member.
The 2012 Cinderella Ball chairperson was Sylvia Rupert, and Susan M. Moorer is league president.
All proceeds from the ball will go to scholarships for students in the Mahoning Valley.
For information about the league visit www.juniorcivicleague.org.