Among the JCL projects is ... HAVING A BALL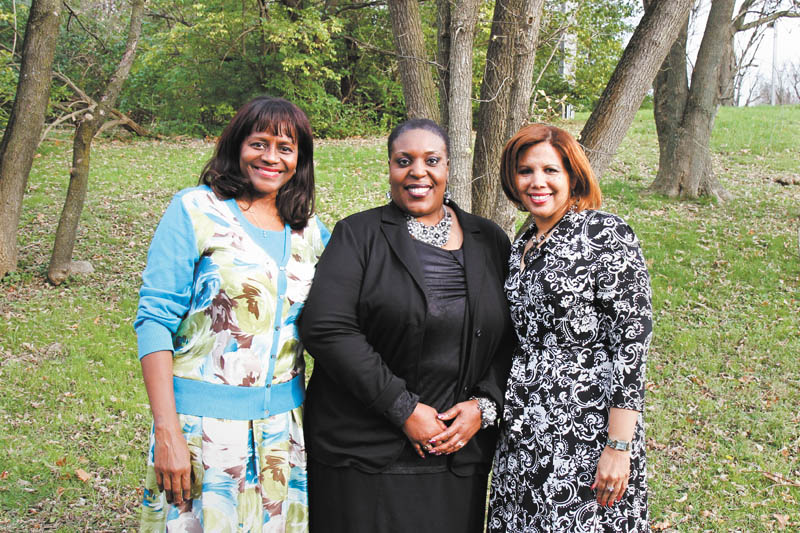 ---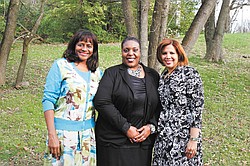 Photo
Among the members of the Junior Civic League of Youngstown who were involved in planning the league's 57th annual Cinderella Ball were, from left, Sylvia Rupert, ball chairman; Cynthia Mason, public relations chairman; and Susan Moorer, league president. Photo by MADELYN P. HASTINGS | THE VINDICATOR
By SEAN BARRON
Special to The Vindicator
During a recent rehearsal for the
Junior Civic League of Youngstown's 57th annual Cinderella Ball, Donielle Lisbon graced the floor with a mix of the casual, formal and elegant, the latter two of which included 5-inch heels.
Donielle was rehearsing with the nine other high-school debutantes who participated in this year's formal ball, which took place Nov. 23 at Mr. Anthony's Banquet Center in Boardman.
During the practice session at the Mill Creek Community Center, 496 Glenwood Ave., on Youngstown's South Side, Donielle and the others worked with their escorts, parents and relatives on perfecting curtsies, moves to waltz dances, timing and other bits of choreography to prepare for the gala event.
"It's exciting. I've been in Cinderella Balls since I was little," the 17-year-old Struthers High School student said after the sixth of about 10 rehearsals that led up to the ball, which was themed "Imagine Me."
The nonprofit JCL, founded in February 1952, heavily emphasizes volunteer service, and its members have donated thousands of volunteer hours over the years to many community agencies.
In addition the league formed a scholarship program to add to a limited amount of funds for qualified black students in need who sought higher education, according to its website.
Proceeds from the Cinderella Ball go to the JCL's Scholarship and Education Program, which has given out more than $475,000 in scholarships to outstanding minority students from area high schools.
The ball is the league's sole fundraiser for the scholarships. This year the JCL will award a total of eight scholarships, including $2,500 to Miss Cinderella and $1,800 and $1,500 to first attendant and second attendant, respectively, noted Susan Moorer, president.
The three recipients of those scholarships are announced in today's coverage of the ball on page D4 in the Society section.
The other five recipients will be announced at the organization's yearly scholarship luncheon in June, said Moorer, who is coordinator of P-16 outreach and assessment at Youngstown State University's Beeghly College of Education.
To qualify, students must carry a minimum 2.5 GPA, submit written documentation, be in financial need and take part in school and community volunteerism, noted Cynthia Mason, the JCL's public-relations officer.
The Cinderella Ball raises an average of about $20,000 each year, Mason said.
Heavy hearts, however, hung over this year's event after the death of one of the debutantes, 19-year-old Bre'Ana Murray, a Liberty High School student who died Nov. 16 after having collapsed at the school.
Before they started to practice at the rehearsal that followed that tragic news, the debutantes and escorts joined others in a circle, where a psychologist spoke on grief and loss. Several people also shared recollections of Bre'Ana.
Bre'Ana was in the hearts and on the minds of many people before and during the ball, including Sylvia Rupert, the JCL's chairwoman.
"The first day I met her I noticed her wonderful smile and spirit of cooperation. She's a doll baby," Rupert said.
"She was very sweet, pleasing and outgoing, and involved in [school and community] activities," Moorer added.
The Cinderella Ball dinner featured a special tribute to Murray in which each debutante placed a white rose on a table and offered words of remembrance about her.
Junior Civic League | Background
The beginning: In the spring of 1952 the Civic League organized the Junior Civic League, and Geneva Fleming Mason was its first president.
Purpose: Junior Civic League promotes interest in health, educational and civic affairs of the community and a better understanding in all affairs pertaining to the betterment of the community. The Civic League organized the JCL to involve younger women in the Rhoda Johnson Well Baby Clinic, which operated for many years at the West Federal Street YMCA. The clinic provided free medical care to minority infants and young children.
Charter members: Eleanor Taylor Hughey, Geneva Fleming Mason, Carol Foreman Oliver, Haydee Street, Nadine Johnson Stewart, Betty Granberry Vaughn and Juanita Fleming Williams and the late Mary Jane Cooper, Patricia Powell Gooden, Marvel Granberry Flint, Georgia Smith, Barbara Boyd Snipes, Helen Thomas, Theresa Coleman Wallace and  Henrietta Wainwright.
Criteria for membership: Volunteer service, dedication to organization projects by active participation and good attendance.
Motto: "Decide at once upon a noble purpose, then take it up bravely, bear it off joyfully, lay it down triumphantly," suggested by Henrietta Wainwright.
Volunteerism: JCL, one of Youngstown's oldest and most prestigious African-American women's organizations, has given thousands of hours of volunteer service at Mahoning County Crippled Children and Adult Society, Urban League, Hospice of the Valley, Associated Neighborhood Centers, and American Heart and American Cancer associations.
Ongoing projects: Cinderella Ball, the major fundraiser of the organization for 57 years, began in 1955. Jeannie Lee McDowell was crowned the first Miss Cinderella. Betty Brown Robinson, a ballet dance instructor, originated the idea. She choreographed the dance routine, and the first practices were in her studio. Current choreographers are Pam Murrell, Marcella Hodge and Felicia Alexander.
Scholarships: Cinderella Ball proceeds benefit the league's scholarship and education program, which began in 1961. More than 300 scholarships totaling about $450,000 have been awarded to outstanding minority students at area local high schools. The annual installation and scholarship brunch is now a community event.
Involvement: The league participates in the Youngstown Public Schools Adopt-A-School Program and sponsored its first public political forum in 1988. Annual Christmas parties for needy children provide gifts, toys and fruit and are usually in church fellowship halls.
Past projects: In the early 1960 and 1970s, annual spring style shows took place to raise funds for the Crippled Children's Society, now known as Easter Seals. In the mid-1980's, a style show benefited the scholarship program, featuring Kathy Bradley of Los Angeles, Calif., an actress and national TV star, who grew up in Girard. The league also had public forums featuring prominent speakers and hosted the Dayton Contemporary Dance Co. at Stambaugh Auditorium. Operation Up-Beat was a musical instrument program initiated in public schools by the league and continued until 1989.
Honors: The league has been recognized for its service to the community with multiple citations and awards from Valley organizations. It is a life-member of NAACP and contributed thousands of dollars to it organization over the years.
Contact information: Visit www.juniorcivicleague.org.
Source: Junior Civic League