Kristi L. Cooper, Joshua M. Palmer will wed Dec. 29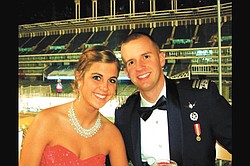 Photo
KRISTI L. COOPER AND JOSHUA M. PALMER
Larry and Arleen Cooper of Austintown and John and Jenny Palmer of Canfield are announcing the engagement of their children, Kristi Lanae Cooper of Austintown and Joshua Martin Palmer of Hurlbert Field, Fla.
Champion Presbyterian Church will be the setting of the 2 p.m. Dec. 29 exchange of vows. An evening reception will be at Ciminero's Banquet Centre, Niles. Invitations will be extended for both.
The bride-elect is studying speech pathology at the University of Akron and works for Mayflower Wollam Insurance Group, North Jackson.
The prospective groom received a bachelor's degree in meteorology at the U.S. Air Force Academy and is a second lieutenant with the Air Force at Hurlbert Field.