Kilar-Marriotti wedding set for April 2013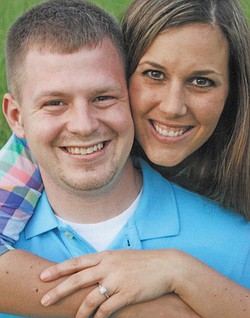 Photo
MICHAEL A. MARRIOTTI AND ASHLEY K. KILAR
Robert and Christine Kilar of West Middlesex, Pa.. and Robert and Judy Bralich of Sharpsville, Pa., are announcing the engagement of their children, Ashley Kay Kilar and Michael Anthony Marriotti, both of Hubbard.
The father of the future groom, Michael A. Marriotti Sr., is deceased.
Invitations will be extended for the 1:30 p.m. April 13, 2013, wedding ceremony at Our Lady of Fatima Church, Farrell, Pa., and a reception at Brentford House, Hubbard.
The bride-elect is a billing specialist for Primary Health Network, Sharon, Pa.
The future groom graduated from the Center for Naval Engineering. He is an instrumentation technician for NLMK Pennsylvania Corp., Farrell. He served in the U.S. Navy for four years.