Brown-Mauser wedding to be Jan. 12, 2013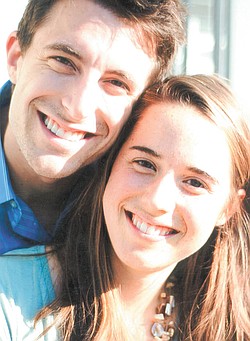 Photo
CHRISTOPHER MAUSER AND LAURA BROWN
MARQUETTE, MICH.
Marilyn and Roy Brown of Marquette are announcing the engagement of their daughter, Laura Brown of Marquette, and Christopher Mauser of Matthews, N.C.
Parents of the prospective groom are Kathy Repenning of Liberty and Ron Mauser of Nevada.
Invitations will be extended for the exchange of vows set for 3 p.m. Jan. 12 at St. Paul's Episcopal Church. Invitations also will be extended for a local postnuptial reception Jan. 20 at Operating Engineers Hall, Boardman.
The bride-elect is pursuing a degree in Christian counseling at Liberty University.
The future groom, an associate at Home Depot in Charlotte, N.C., received a bachelor's degree in business from Kent State University and a master's in philosophy of religion from Southern Evangelical Seminary, where he is pursuing his doctorate.