Wrestlers start season with tourney title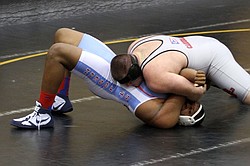 Photo
Neighbors | Submitted.Junior Curtis Burns pinned his opponent from Cleveland St. Joseph during last weekend's dual match.
The Canfield varsity wrestling team kicked off its 2012-13 season Dec. 1 at the Cuyahoga Falls Tournament with a team victory over Cuyahoga Falls (45-16), Barberton (50-20), NDCL (79-0), Archbishop Hoban (64-12) and Cleveland St. Joseph (78-3).
Posting perfect 5-0 days were wrestlers Kyle West (106), Matt Dunbar (113), Anthony Spencer (126), David Labra (152), John Poullas (170) and Curtis Burns (285). Stan Socha and Jared Bunch combined at 182 and went 3-0 and 2-0, respectively.
The victory over Barberton was particularly satisfying, as Canfield beat the Division I school, who has several state-ranked wrestlers. The Cards posted three quick wins and never looked back, defeating the Magic 50-20.
"Our guys have been working hard in the off-season and in daily practice, and today the hard work paid off," said Canfield coach Dean Conley. "We have an outstanding group of dedicated guys this year, from our freshman class through our seniors — we are excited about our team and we hope we can reach our goals."