---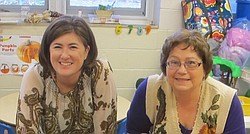 Photo
Neighbors | Natalie Scott.Mrs. Brant (left), the substitute teacher for Mrs. Jacobs, and Mrs. Delost helped set up the Thanksgiving feast for the Union Elementary School preschool classes Nov. 19.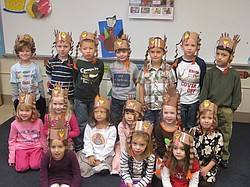 Photo
Neighbors | Natalie Scott.Mrs. Jacobs' and Mrs. Delost's Monday-Wednesday-Friday 4-year-old class wore turkey hats that they created as a craft for the Thanksgiving feast Nov. 19.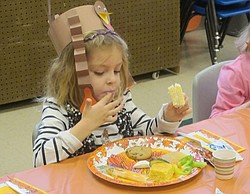 Photo
Neighbors | Natalie Scott.Aubrey Copanic, a student in the 4-year-old class, began her feast by sampling the turkey sandwich at Union Elementary School Nov. 19.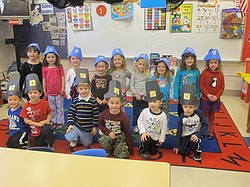 Photo
Neighbors | Natalie Scott.Judy Greene and Joy Buchi's class made Pilgrim hats as part of their projects for the Nov. 19 Thanksgiving feast at Poland Union Elementary School.
By NATALIE SCOTT
Preschool students in Union Elementary School's program celebrated Thanksgiving by making Pilgrim and Native American-related crafts, singing songs, and having a feast to share with fellow classmates in the spirit of sharing and learning to get along Nov. 19.
Preschool teachers Mrs. Jacobs, Mrs. Delost, Mrs. Greene, and Mrs. Buchi worked up to the Thanksgiving feast over the course of several weeks. Students in their classes learned about Pilgrim and Native American lifestyles. During Native American Week, students in Greene and Buchi's class built their own teepee tents and learned how to make cornbread muffins. Students in Jacobs and Delost's class made traditional cornbread, homemade butter and candle holders from various beans and seeds.
"It was very mathematical," said Delost. "First, they had to sort the beans by color and shape, and then they had to figure out how to glue them to make the perfect pattern."
The weeks culminated in a big feast, in which each student brought something from home to share with the class. There were traditional Thanksgiving favorites like turkey, cornbread, potatoes, pumpkin pie and stuffing to complete the preschool's November lessons.