Ursuline grad Turnage busy at Waynesburg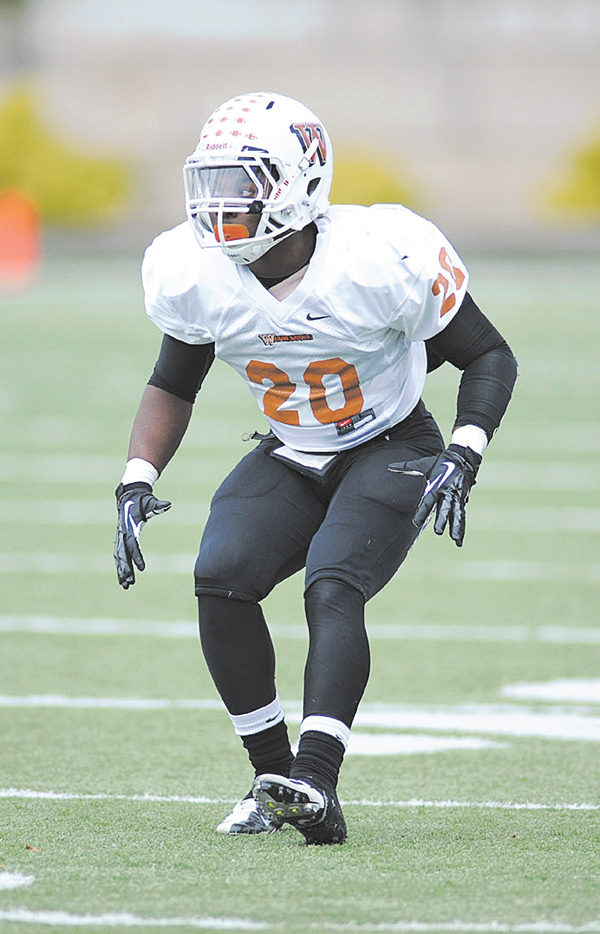 Photo
Ursuline High graduate LaVance Turnage is a triplethreat athletically at Waynesburg University, playing football and basketball and running track. Off the field, Turnage is a business management major minoring in marketing finance.
The Ursuline graduate is busy at Waynesburg
WAYNESBURG, PA
For LaVance Turnage, there is no offseason.
And, really, there is no free time.
The Waynesburg University senior and 2009 graduate of Ursuline High is a business management major, minoring in marketing finance.
He's also a defensive back on the Yellow Jackets' history-making football team.
Oh, and Turnage also plays basketball and runs track and field.
"It's time-consuming," he said. "I'm managing my schoolwork, classes, practices, games, treatments and a social life. It's like a full-time job."
A normal day starts at 7 a.m. with a sports meeting taking place at 11. After squeezing in a hearty lunch, he'll go to class in the afternoon before practice in the early evening.
A night class usually follows, then a study table with homework before winding down back in the dorm room with the TV on as he falls asleep.
Then he does it all over again.
"I like staying busy," Turnage said.
Waynesburg's football team went 10-1 in 2012 and capped off the year with a 28-24 win over Carnegie Mellon in the Eastern College Athletic Conference South West Bowl.
"It took me back to my high school days when we went undefeated with a state championship," Turnage said.
He recorded 30 tackles in his senior year with eight pass break ups and an interception.
Speaking of Turnage's high school days, a former coach still thinks fondly of him.
"He's a phenomenal athlete," Ursuline basketball coach Keith Gunther said. "He's just a super kid and probably one of the toughest competitors we ever coached here. Not only a great football player, but a great basketball player who started as a sophomore for us."
He started as a sophomore in Waynesburg's secondary, but an ACL injury slowed him down midway through the football season.
"It sidelined me my whole sophomore year," he said. "It was just a bunch of rehab and lifting.
"It was tough. I sat down, talked to my coaches and they told me that I was still a part of the team and I needed to help the guys out. I felt like that was my duty."
Now, he's 100 percent and getting used to another season on the hardwood. Last year, he played in 11 games and scored six points.
"I'm still transitioning right now," he said. "It'll take a couple more weeks to get all the plays down and fit back into the system. The conditioning and workouts are all different, too. Football and basketball are two different types of running.
"Coach said I'll get a little more playing time than last year. When he throws me in, I'll be ready."
The Yellow Jackets are 2-5.
In track, Turnage runs the 100- and 200-meter dash, as well as high jump and long jump.
"Doing it all forces me to stay in shape. I wouldn't have it any other way," he said.
Turnage plans to graduate in May and wants to work for a bank or corporation in a big city. While he won't be considered the next Bo Jackson, Deion Sanders or Antonio Gates, Turnage left a mark on Waynesburg athletics.
"Probably the best four years of my life," he said.