Catholic Charities suggests cyber gifting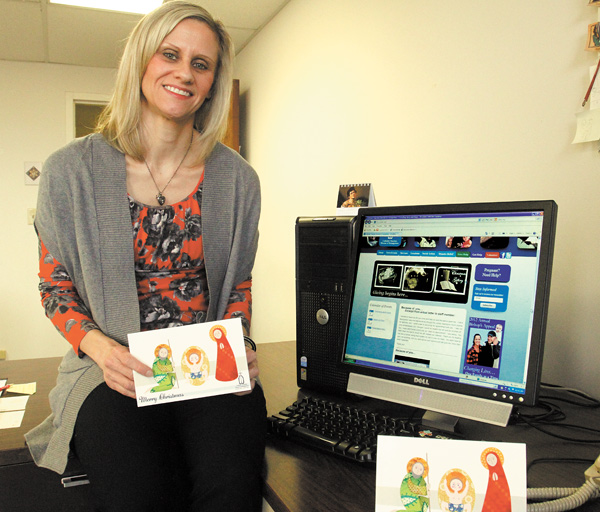 Photo
Rachel A. Hrbolich, associate director of social services at Catholic Charities of the Diocese of Youngstown, shows the Christmas card featuring a depiction of the Holy Family that is being sent as a thank-you to donors. Catholic Charities is promoting its online Christmas Gifting Program as a way to remember someone with a gift that helps someone in need.
By LINDA M. LINONIS
Youngstown
For those who have everything or want nothing, a monetary gift in their names to provide food, shelter, clothing or utility help to a needy person or family might be the perfect choice for a Christmas gift.
A donation to Catholic Charities Christmas Gifting Program helps fulfill the motto "Providing Help. Creating Hope." Funds are channeled through its emergency-assistance programs in Columbiana, Mahoning, Trumbull, Ashtabula, Portage and Stark counties.
Brian R. Corbin, executive director of Catholic Charities, said donors regularly contribute to the regional agency throughout the year and during the Christmas season.
Rachel A. Hrbolich, associate director of social services, said adding the "cyber-shopping" opportunity was a natural. Visit www. ccdoy.org, which is the Catholic Charities site, or www.doy.org, the diocese website.
This kind of gifting, she said, is stress-free, and shoppers don't have to scout a parking place or face crowds at stores.
Catholic Charities is thanking contributors with a seasonal card depicting the Holy Family. "It's a nice way to remember someone," Corbin said. "The gift has real meaning because it helps someone in need."
He said this kind of gifting is an "alternative to getting stuff." He pointed out some people seek an option to the commercial side of the season. "This gives people a way to remember someone and help somebody in the process," he said. Donors can be anonymous if they wish.
Corbin and Hrbolich noted that the funds from this program can be used at the discretion of Catholic Charities to meet immediate needs. "We see people whose situations are intense ... with a crisis of food or utility shut-off," Hrbolich said. "They live tenuous lives."
In 2011, Catholic Charities in Columbiana, Mahoning and Trumbull counties provided food to 2,108 people; emergency shelter to 182; prescription assistance to 194; clothing assistance, 129; utility assistance, 4,264; and homeless-outreach assistance, 1,035. Corbin said Catholic Charities has seen a 14 percent increase in demand for services since 2009.
"We're seeing more people than ever before," Hrbolich said. "Some are former donors who now have become recipients."
Corbin and Hrbolich said the need is only increasing. Luckily, Valley agencies help one another. "It's all about helping the clients," Corbin said. "All the agencies work together."
The next campaign for Catholic Charities will be Keep the Kids Warm, which begins Dec. 30, the Feast of the Holy Family, and ends Jan. 13, 2013. The special parish and community collection focuses on winter utility assistance for families in need. Funds raised are used in the county in which they were collected.
More like this from vindy.com