Senior class raises funds through craft show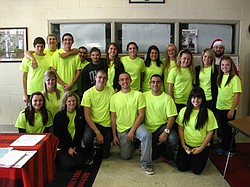 Photo
Canfield High School students volunteered to help with the 24th annual Canfield High School Craft Show, sponsored by the senior class, Dec. 1. Senior class co-adviser Anthony Holben (back right) guided the students in planning the event.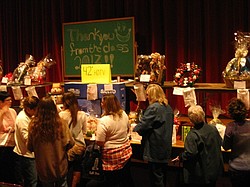 Photo
Attendees of the 24th annual Canfield High School Craft Show lined up to check out the more than 150 Chinese auction baskets and items which they could win, including a 42-inch HDTV.
By ABBY SLANKER
Canfield High School Class of 2013 carried on the tradition of sponsoring the school's 24th annual Craft Show Dec. 1, which featured 201 vendors in 260 spaces and attracted more than 3,000 shoppers.
The event is the sole senior class fundraiser,
The vendors offered a little bit of everything, from holiday crafts to homemade candles, dog treats and bowls to clothing and photo art and from homemade soaps and lotions to homemade baked goods.
Senior class co-advisoes Anthony Holben and Candy Reed helped the senior class officers plan the event, but according to Holben, the students and their parents did much of the work.
"The parents of our class officers do a lot of the work and are involved in the planning of the show. They work the concession stand and they are in charge of the Chinese auction, which this year had more than 150 baskets. The class officers recruit other students from all grade levels to volunteer to help and they can earn community service credits as members of service clubs, such as the National Honor Society," Holben said.
Canfield High School Class of 2013 senior class officers include Michael Barkett, president; Andrew Russo, vice president; Rachel Wyand, secretary; Allison Popovec, spirit coordinator; Jamie Watt, public relations; and Lily Aey, Roselynn Betras, Alex DeChurch, Rachel Jenkins, Deane Stillwagon, Karen Vankovich and Jenna Weems, executive committee.
The Chinese auction offered a variety of baskets, such as a Steelers basket, a Youngstown Phantoms basket, a 42-inch HDTV, a Wii U with three games, a Play Station 3, several holiday-themed baskets, homemade cookies and a wide selection of gift certificates and cards.
Local businesses, families of senior students and several vendors participating in the craft show donated the items.
"We have great and very generous vendors. They make this all worthwhile," Holben said.
Holben also wanted to issue an apology to anyone who was inconvenienced by the bussing situation.
"I just wanted to apologize for the bussing situation this morning and any inconvenience it may have caused. It will not happen again," Holben said.
The money raised from the craft show is used for several activities at the school, including the Sweetheart Dance, Junior/Senior banquet, graduation, the senior class gift to the school and a donation to a charitable organization.
Proceeds are also used to fund the start of next year's show, which according to Holben, starts right away.
"We will start planning for next year's show tomorrow," Holben said.