Police department safety day a success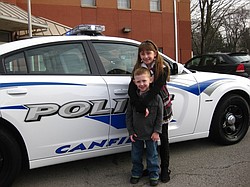 Photo
Neighbors | Abby Slanker.Gwendolyn and Owen Lolakis, of Canfield, had the opportunity to get an up-close look at a Canfield police cruiser during the Canfield Police Department's Safety Day Dec. 1. Gwendolyn and Owen were accompanied by their parents, Angie and Gus, and received complimentary kids identi-cards from the department.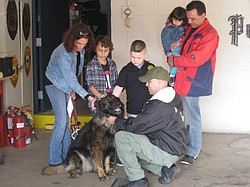 Photo
Thor and his K-9 handler, Chad DeBarr, front, waited at the end of the police department tour to greet visitors, and enjoyed a little attention, during the department's Safety Day Dec. 1. DeBarr explained Thor's job to the visitors and what he can actually do to assist the police.
By ABBY SLANKER
The Canfield Police Department held its first Canfield Safety Day Dec. 1, as the department offered several services, including free kids identi-cards to all Canfield students in sixth grade and under.
"I would like to thank the community for coming out today and supporting us. The response we received today was overwhelming. We had more than we expected this morning and it's a good feeling to have people come out," said Canfield Chief of Police Chuck Colucci.
The identi-cards resembled a driver's license with the student's photo and vital information, including parent contact information and the date of issuance.
"The identi-cards and machines were paid for by drug forfeited money. This is the police department's way to give back to the community," Colucci said.
Attendees also met police officers and K-9 Thor, went on a guided police department tour, got an up-close look at the police cruisers, spoke to the School Resource Officer/DARE Officer about child safety strategies, discussed ID theft and internet fraud strategies and got information on the CPD Senior Watch Program.
"We really want to promote the Senior Watch Program. A lot of our senior citizens don't know what we can offer them through this program and we want them to know we can put them on our call list and we can check on them at any time and they can call us anytime," Colucci said.
Community partners of the event included Giant Eagle, Panera Bread and O'Charley's Restaurant.
The department also invited students from South Range and Western Reserve schools.
"We wanted to open it up to a couple other nearby schools. We also had visitors from Girard, Niles and Boardman," Colucci said. Colucci also said the department plans to hold the event again next year and make it bigger and better.
"We plan to continue this next year and we will work on making it more efficient to cut down the wait time. We would like to get more funding to buy another identi-card machine," Colucci said.
A highlight for many of the children was the opportunity to meet K-9 Thor, a 4 Ω-year-old long hair German Shepherd. Thor and his K-9 handler, Chad DeBarr, waited at the end of the police department tour to greet visitors. DeBarr then explained Thor's job and what he can actually do to assist the police.
"Thor and I have worked together for two years. He is a dual purpose K-9, which means he is trained and certified to detect narcotics and also handler protection. He will eliminate the threat to me by biting the upper arm of the person who is threatening me," DeBarr told the visitors. DeBarr then gave visitors the opportunity to pet Thor, if they so chose.