Poland varsity wrestling wins inaugural Wrestling Challenge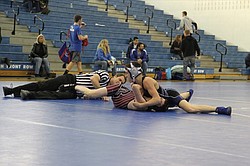 Photo
Poland's Darren Goodin (right) goes for the pin during his match last weekend.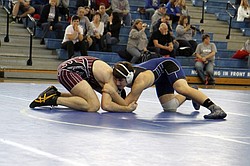 Photo
Neighbors | Submitted.Poland's Mike Audi (right) battles a Boardman opponent during last weekend's dual meet tournament at Poland.
The Poland varsity wrestling team opened the season by hosting the Poland Wrestling Challenge, a dual meet tournament, featuring Boardman, Ravenna, Conneaut, Salem, Hubbard and Poland.
The event was previously known as the Spartan 300 that Boardman had hosted and allowed the Poland program to take over, starting this year.
Poland and Boardman both were 4-0 when they met in the final match of the day. The Bulldogs took the first four matches, including the most anticipated battle of the day between Poland's Mike Audi (preseason ranked 15th in Division II by Intermat Ohio) and Boardman's Joe Cordova (AAU Jr. Olympic Gold Medalist and Jr. Olympic All-American). Audi earned a 7-5 decision.
In the end, Poland had seven wrestlers win their weight classes as the Bulldogs defeated Boardman 43-27 to win the first Dog Bone Trophy.
Winning individual titles were Dante Ginnetti (106 pounds), Darren Goodin (113), Anthony Audi (145), Anthony Mancini (152), John Berndt (160), Mike Audi (182) and Abe Kassem (195).
The final team standings were Poland (5-0), Boardman (4-1), Ravenna (3-2), Salem (2-3), Conneaut (1-3-1) and Hubbard (0-4-1).