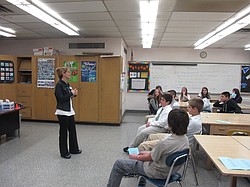 Photo
Neighbors | Natalie Scott.Dr. Rebeka Delatore (left) talked about the challenges and pressures that come with being an emergency room doctor at the Poland Middle School career day Nov. 15.
By NATALIE SCOTT
Poland Middle School hosted a career day for its students on Nov. 15.
The day started with a field trip to the Mahoning County Career and Technical Center, where excited children traveled in groups based on career interests, such as medical or educational, and observed and heard lectures from teachers in the career paths they were interested in.
Upon returning to the middle school, students had the opportunity to listen to and question people with actual jobs in their desired fields.
One speaker was a nurse named Tammy Sheets, who had also spent time as an EMT. She told her class about the importance of choosing the right kind of job for their needs.
"It's very important to pick a career that you are going to be physically and emotionally ready for. If you don't think you can handle seeing all the gory stuff, a position in the medical field might not be for you," said Sheets.
Poland Middle School hosts the MCCTC career day every year to give their students insight into the careers they would like to have as adults.