Pee Wee Phantoms help Team Canada capture Nations Cup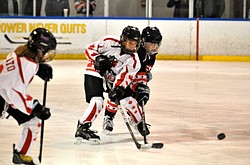 Photo
Mike Fetsko (white jersey) sends the puck up ice as teammate RJ Pozzuto l(far left) ooks for the outlet pass.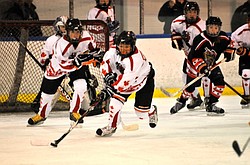 Photo
Devin Whitaker (center) clears the puck while Bo Gray follows (left) during a recent Youngstown Phantoms AA contest.
The Youngstown Phantoms Peewee AA team was invited to represent Team Canada in the Nations Cup tournament Nov. 23-25. Four USA teams and Four Canadian teams competed against each other and were then paired up on Sunday for a final round to determine a winning country.
The Phantoms first took on the Kensington Valley Rebels from Michigan. The Phantoms fell behind 3-0 early in the game, but got within 4-3 midway through the third period after goals by Devin Kelly, Nick Neiger and RJ Pozzuto. The Rebels pulled away with a late goal to seal the victory.
Later on Friday, the Phantoms faced the Clarence Mustangs from New York. The Mustangs are currently ranked 25th in the country. Youngstown was not able to get many scoring chances and fell 4-0.
On Saturday, the Phantoms played much better. The first game was against the Saginaw Badgers, who are ranked 89th in the country. Youngstown gave up a goal in the first period and another in the second, falling behind 2-0 to start the third period.
One minute into the period, RJ Pozzuto scored on an unassisted goal. Five minutes later, the Phantoms evened the score 2-2 when Nick Neiger scored off an assist from Sebastiano Layne. Nick Beck (Boardman) and Colin Frost (Boardman) shared the goalie duties.
Saturday's late game was against Compuware II from Michigan. The Phantoms fell behind 1-0 at the end of the first period, but in the second, RJ Pozzuto scored an unassisted goal to even the game. Twenty seconds later, Alex Ritz scored with assists from Bo Gray (Boardman) and Mike Fetsko (Boardman). A minute later, Maguire Franko (Poland) scored from Nate Brown and RJ Pozzuto. The final score was by Sebastiano Layne, from Fetsko. The final was 4-4.
Sunday's game was the finals where Youngstown had to take on Compuware II again. The Phantoms exploded for an 8-2 victory, helping Team Canada capture the crown.
Devin Whitaker (Boardman) recorded three goals and RJ Pozzuto added two more goals. Alex Ritz, Bo Gray (Boardman) and Sebastiano Layne each had one goal. Tallon Price (Poland) recorded an assist. Frost and Beck split the goalie duties.