Gruesome Pearl Harbor memories etched in Valley survivor's mind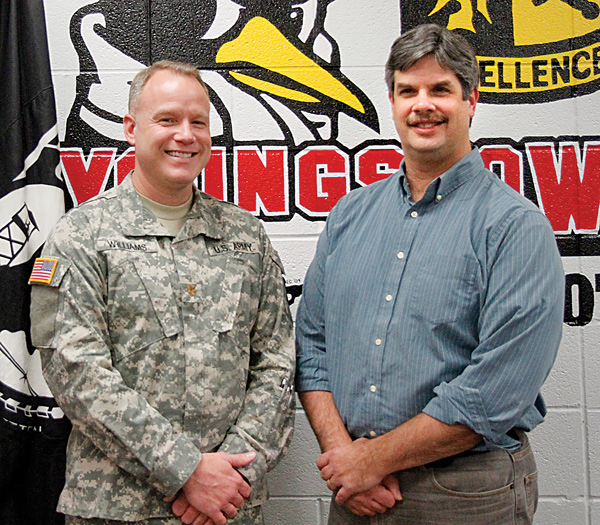 ---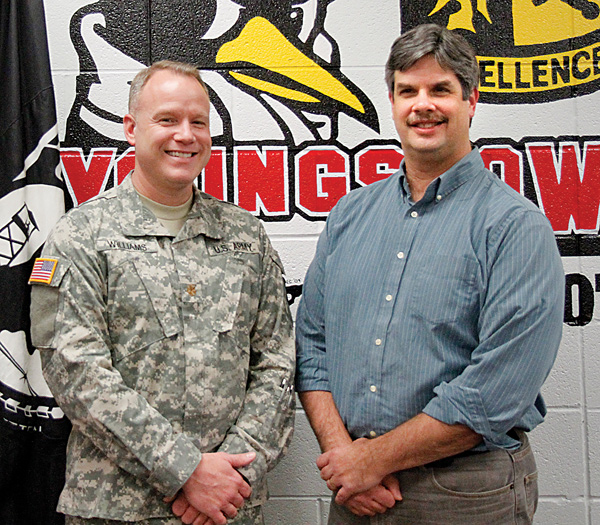 Photo
Army Reserve Maj. Rick Williams, left, officer in charge at Youngstown State University's ROTC, and retired Navy Petty Officer 1st Class Jim Szabo, human-resources assistant for the YSU ROTC, both work to keep the memory of Pearl Harbor Day alive.
YOUNGSTOWN
President Franklin Delano Roosevelt described the Japanese attack on Pearl Harbor on Dec. 7, 1941, as a "day which will live in infamy."
Today, the question is will the attack and its lessons live in America's collective memory?
Many Americans will never forget Sept. 11, 2001, the day terrorists attacked New York City, Washington, D.C., and Pennsylvania.
But near the beginning of a decade in the 1940s, the unfathomable happened in a U.S. territory in the Pacific Ocean.
Don Freer was driving his mother in his 1936 Ford sedan from Warren to his brother's house in Bazetta, where the Mosquito Lake marina is now, when the report of the Japanese attack on Pearl Harbor came over the radio.
Freer, 19 at the time and a recent graduate of Warren G. Harding High School, said, "I remember going to the Armory on High Street in Warren to watch my brother and a bunch of other guys I knew inducted into the Army. Our family had two members in World War I so we knew the personal impact could be drastic."
Freer, of Howland, said Harding Principal Milton Mollenkopf conducted assemblies and showed students speeches by Hitler so they would know what was going on around the world.
He said that he, along with the nation, however, was flabbergasted by the Japanese attack on Pearl Harbor.
"We knew the Japanese were doing terrible things to the Chinese, but it didn't directly affect us, and our focus was on the danger in Europe," Freer said.
Despite that Dec. 7, 1941, wake-up call by the Japanese, the great fear of the fast-dwindling numbers of survivors of the early morning surprise attack is that it will be forgotten by the nation; that the country will not adhere to the Pearl Harbor Survivors Association's Motto: "Remember Pearl Harbor — Keep America Alert — Eternal Vigilance is the Price of Liberty."
Jim Szabo, retired Navy veteran who is the Youngstown State University ROTC program human resources administrative assistant, and a military history buff, said the events of Sept. 11, 2001, and Dec. 7, 1941, both drew the U.S. into war.
"The road to our future has already been traveled in the past," said the former petty officer 1st class. "We can't forget Pearl Harbor because we don't want to get caught off guard again, and then we did with 9/11.
"To me, that's the tragedy. We failed to learn from our mistakes. We failed the lesson of Pearl Harbor, and 9/11 happened. We should have been better prepared," Szabo said.
It is very important that Pearl Harbor be remembered, said Army Reserve Maj. Rick Williams, officer in charge of Army ROTC program at YSU.
"As time goes on, we are losing politicians and leaders who have military experience, and it is rare to find someone on campus who is a military veteran," said Williams, who retired after 24 years with the Ohio Army National Guard.
Despite that, Williams says YSU does a good job of keeping events such as Veterans Day, Memorial Day, Pearl Harbor other military anniversaries alive on campus.
Even though the World War II and Korean War veterans are passing on, he said he is confident someone will step up and keep the memories alive.
But the fact is, the current keepers of the flame are dying.
Of the 27 who formed the Pearl Harbor Survivors Association Mahoning County Chapter 5, three remain alive. Indeed, the national Pearl Harbor Survivors Association, founded in 1958, disbanded Dec. 31, 2011, along with its Mahoning County Chapter 5.
Pat Birch, a history/social studies teacher at Boardman High School, said that in the textbook used for U.S. history, the attack on Pearl Harbor is part of one section in the World War II chapter.
Birch said his father told him about Pearl Harbor when he was a child.
"I was too young to understand the entire significance, but I knew even then it was an important event in our nation's history," he said.
Today, Birch describes Pearl Harbor as one of the most significant events in U.S. history.
Robert Bishop of Austintown was aboard the USS Tennessee, a battleship anchored in Pearl Harbor, when the attack occurred.
Bishop didn't see the attack because he was below deck, but the aftermath is forever etched into his memory.
"One of my shipmates was collecting bodies floating in the water and towing them through the water to a hospital. It's a sad picture I will never forget," said Bishop, who will be 92 on Dec. 19.
He speaks to school classes and military and other organizations about Pearl Harbor to keep the memory alive; and he says the Sons and Daughters of Pearl Harbors organization is also doing a good job.
"I just don't want to see all the men who died, and the lessons learned, forgotten," Bishop said.
The Japanese air attack came in two waves, one beginning at 7:53 a.m.; the second at 8:55 a.m. By 9:55 a.m. it was over, leaving dead more than 2,500 Navy, Marine and Army personnel, including 1,177 on the USS Arizona alone. Also the attacks destroyed about 300 U.S. planes and crippled the U.S. Pacific Fleet.