Hot dog shop treats Fitch staff to breakfast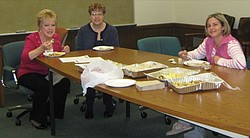 Photo
Neighbors | Submitted.Fitch staff members Arlene Curran, Jan Simmerman and Amanda Krygowski enjoyed the complimentary breakfast provided by Rick's Hot Dog Shoppe on Nov. 27.
Rick's Hot Dog Shoppe serves more than just dogs and fries.
The office staff at Fitch High School found that out first-hand Nov. 27 when store manager Jennifer Jokinen treated them to a free breakfast in appreciation of their work at the school.
"We just wanted to say thank you and give them an opportunity to try some of our breakfast food," said Jokinen. "We're a hot dog shop for sure, but we have a full breakfast menu, too."
In addition to hot dogs, burgers, sandwiches and other lunch items, Rick's serves a full breakfast menu, including specialty omelets. The Fitch staff got a taste of the cheeseburger, Philly cheesesteak and Gyro omelets, as well as sausage and gravy.
The shop is located on the corner of Mahoning Avenue and Idaho Road, near Marc's. The building is the former Red Barn and Jay's Hot Dogs.
Rick's is open 7 a.m.-7 p.m. Monday through Saturday. The location features a dining room with big screen televisions and offers carryout orders. Catering and delivery are available, depending on order size and location.
For more information or to order, call Rick's at 330-953-3441.