Penguin men roll past Geneva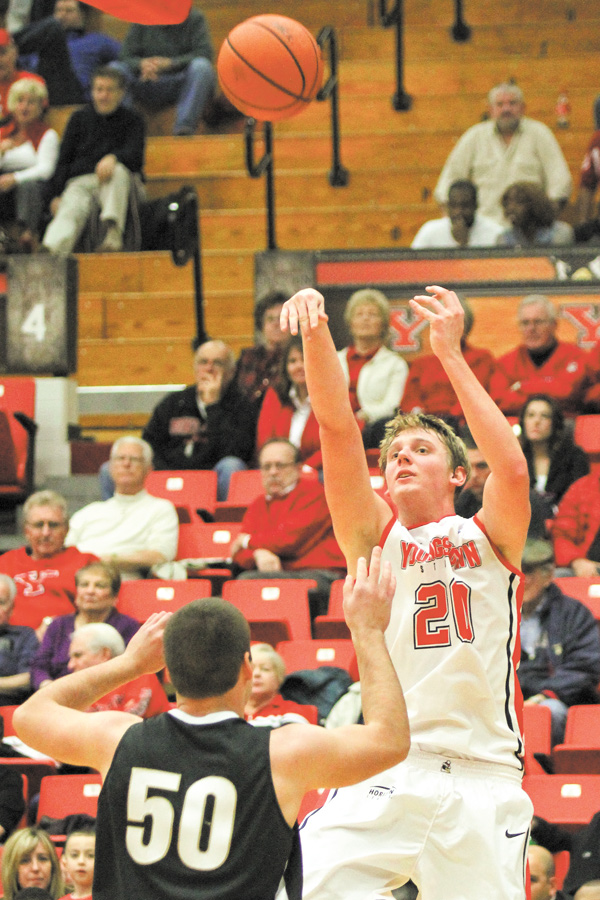 ---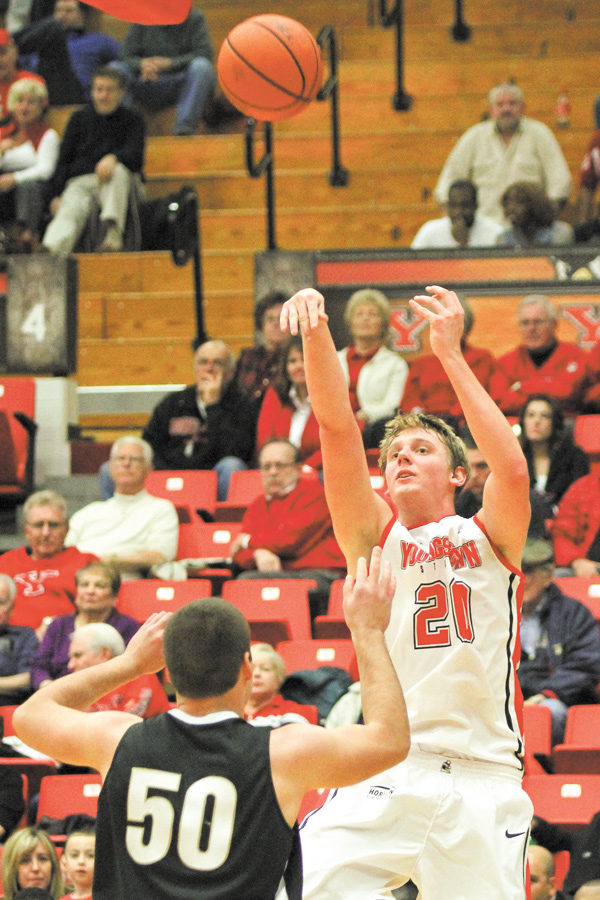 Photo
Youngstown State's Bobby Hain (20) hits a jump shot over Geneva's Matt Noyler (50) during the second half of Thursday's game at the Beeghly Center. The Penguins silenced the Tornados, 93-50, with Hain posting 16 points and 11 rebounds.
Freshman's big night keys Penguins' 43-point victory
By Joe Scalzo
YOUNGSTOWN
He's got the hair of a (1980s) Karate Kid villain and the face of a freshman. A high school freshman.
His name is Bobby Hain, but he's "Sunshine" to his teammates (an homage to his blond locks and Florida roots) and "TRESemm " (a shampoo brand) to the George Washington fans who heckled him in Youngstown State's opener.
Hain scored 19 points and grabbed 11 rebounds off the bench in that GW game — his first as a collegian — and he's looked like a talented freshman (emphasis on both words) ever since, scoring two points or fewer in five games and 10 points or more in three others.
On Thursday night, the Penguins got the good version as Hain used his height (6-foot-10) and his hops to score 16 points and grab 11 rebounds as YSU overwhelmed Division III Geneva 93-50 at Beeghly Center.
"He's such a unique, positive player at the offensive end because of the gifts that he has," Penguins coach Jerry Slocum said of Hain. "He's just natural.
"He can stretch the defense from the 3-line, he's probably our best passer in the program in terms of when he gets into the post and then he has just a knack ... of finding ways to get the ball up on the rim.
"I always tease him, he plays as an upperclassman offensively. Defensively, he still has a long way to go."
Twelve players scored for YSU (5-4), which led just 17-14 at the eight-minute mark before pulling away.
Four players scored in double figures for YSU. Senior Damian Eargle added nine but he did his best to get 12, firing up his first 3-pointer of the season. (It missed.)
"You gotta bring that up, huh?" Slocum said, grinning. "There's a lot of things you'll see in a game like that. He informed me at the half when I mentioned that [attempt] to him that, 'Coach, I've got to get one [3-pointer] in my career.'
"He was quick on the trigger."
With the win, Slocum took over the second spot on YSU's career victories list with 79.
"Really?" said Slocum, who is 79-140 in eight years at YSU. "I swear to you, I had no idea."
Slocum is 660-464 all-time, with 203 of those victories coming in nine seasons at Geneva. One of his former players at Nyack College, Jeff Santarsiero, served as his assistant at Geneva and was hired as the Golden Tornadoes' head coach after Slocum left for Gannon in 1996. He's been there ever since.
"It's a group of people, from the Geneva perspective, that I have a lot of affection for," Slocum said.
When a reporter pressed him to expound on his Geneva roots, Slocum drew laughter when he said, "I'm not going to cry about it.
"It's a place that I love," he said. "It's a wonderful school and I'm happy we could help them out a little bit and get somewhat of a close game where they can have their families and people there."
Zac Rorick led Geneva (0-8) with 14 points while Brian Rice, the Golden Tornadoes' 43-year-old freshman, scored six points and grabbed three rebounds off the bench.
But the night belonged to Hain, who brought some sunshine to a cold, December game.
"I get more confidence every game," Hain said. "I'm just trying to get better every day, really. Hopefully."