Friends ease 'Redd's' worries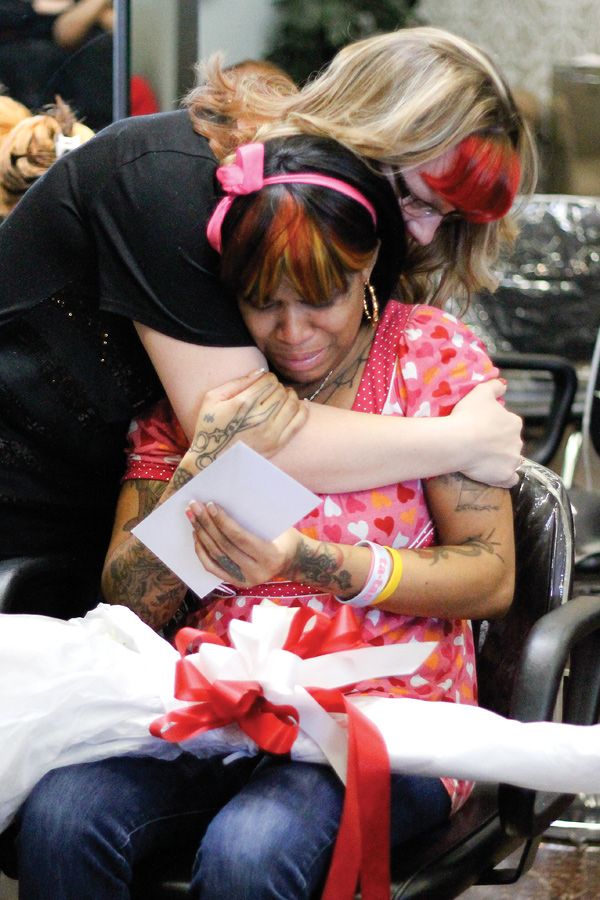 ---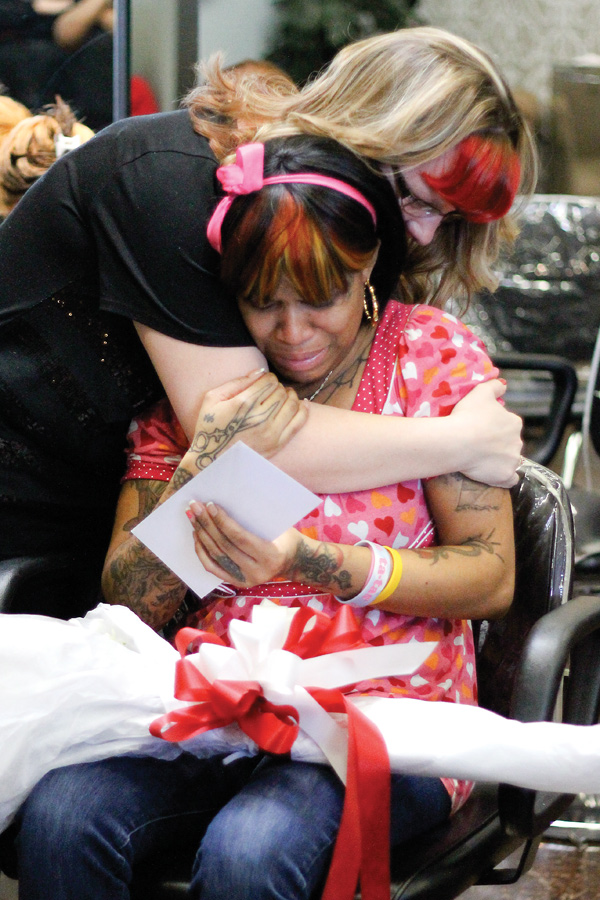 Photo
Kendra "Redd" Campbell cries while being hugged by one of her classmates, Anna Williams of Orange, Va., at Raphael's School of Beauty Culture in Boardman. Her classmates and others paid the layaway balance for her children's Christmas presents. Campbell was a student at the school until she was diagnosed with cancer, and she hopes to return to school next year.
By Susan Tebben
stebben@vindy.com
Boardman
The tattoos of a hair
dryer and scissors on her neck and hand demonstrate the passion Kendra Campbell has for her work.
The Youngstown woman picked up the nickname "Redd" because of the fiery color she has in her hair.
She loved the two years she spent at Raphael's School of
Beauty Culture, honing her craft at the school that brought her away from her struggles. Initially shy, she became a happy and
talented person, her classmates and teachers said.
"She was a great student," said Jay Roberts, an instructor at
Raphael's. "She always had positive energy and would always come in with a smile on her face."
But she and her friends at the school cried together when she was diagnosed with stage 4 brain, lung and bladder cancer. Her
diagnosis was terminal, and she had to take a break from school.
She also worried about her children, particularly how she would pay for their Christmas gifts this year.
On Thursday, though, her smile returned when she went back to school for the day. She had no idea what her friends had in store for her.
Campbell's classmates, instructors and friends at the beauty school had come together in honor of her. Through donations from the students in both Boardman and Niles, including some of the tips they earned, the balance of Campbell's layaway at Walmart had been paid. Her children's Christmas gifts were covered.
When Campbell tried to express how she felt about what they'd done, the tears were on her classmates'
faces as much as on the faces of Campbell, her mother and her twin sister.
"It's shocking," Campbell said, choking back tears again. "You never know who your true friends are until they are there for you. This is just a lot of love."
It was hard for her mother, Bridgett Moss, to keep the surprise from Campbell when she heard what the school had done.
"I dropped to my knees," Moss said. "It's just a weight lifted off of our shoulders, off of her shoulders. It helps me to know I won't have to worry about her so much."
Classmate Anna Williams was the one who started the process, but it didn't take long to bring everyone together.
Before they knew it, they had raised $250 for the layaway balance – and even a little extra.
Her classmates smiled as they shared stories about the difference Campbell had made in their lives.
"She has changed a lot of people here," said Heather Livesay, one of the many classmates wearing red to show her love for Campbell. "Not only personality-wise, but she taught us how to communicate, how to talk to each other and be positive."
Even customers joined Thursday's celebration.
"Customers started just handing them donations," Moss said. "This place is amazing."
Now that she doesn't have to think about where to go for her children's Christmas gifts, Campbell can focus on her future.
"We have a plan set that she's going to return to school in the summer," said Raymond Morgan III, head of Admissions and Recruiting for the school.
"We're just all going to hope for that."