Former Poland student and her mother signs books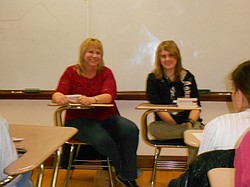 Photo
Neighbors | Submitted.Dawn (left) and Kaleigh Maxwell (right), former Poland residents, visited Poland Middle School Nov. 15 to discuss the writing and publishing process that they went through to publish their book, Ultimate Blood.
When Dawn and Kaleigh Maxwell visited Poland Middle School for a book signing Nov. 15, they weren't discussing or signing just any book.
That's because the mother-daughter co-authors teamed up to pen a novel titled "Ultimate Blood," a book about a young boy who is struggling with the idea that he is turning into a vampire. The tale focuses on Louisiana folklore and is full of many twists and turns.
Kaleigh is a 16-year-old former Poland student. She and her mother offered their time to come to Poland Middle School to answer questions about their book and the writing process. They also spoke about the publishing and marketing process in order to make a book successful.
Until the visit, many PMS students were under the impression that writing and publishing a book was out of their reach. The Maxwells challenged that idea by explaining to them how they wrote their book.
Under the guidance of the Maxwells, Poland Middle School students left the visit with a better understanding of the writing process and a few tips and tricks to move along their own ideas.