Dobbins students learn music from the maestro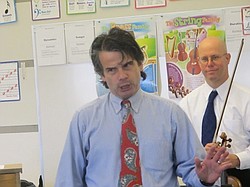 Photo
Neighbors | Natalie Scott.Randall Craig Fleischer (front) sang Twinkle Twinkle Little Star in different ways to demonstrate to Dobbins students the difference inflection can make on a melody. Violinist Calvin Lewis (back) was ready to help the lesson at any time.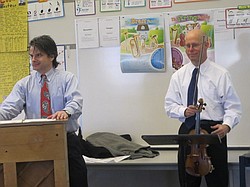 Photo
Neighbors | Natalie Scott.Randall Craig Fleischer (left), with the help of violinist Calvin Lewis, taught Dobbins students about music and musical terms using hands-on methods that were easy to understand.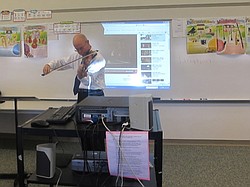 Photo
Neighbors | Natalie Scott.Violinist Calvin Lewis helped Fleischer's lessons on Nov. 16 by playing melodies on his violin, often repeatedly to demonstrate the difference in inflection or time.
By NATALIE SCOTT
Over the course of several weeks, Youngstown Symphony Orchestra conductor Randall Craig Fleischer taught Dobbins Elementary School students about music and musical terms using examples that all the students could understand.
Fleischer's last visit to Dobbins was Nov. 16. Fleischer played tunes on the piano while fellow musician Calvin Lewis played the violin. The duo created beautiful music while using the tempo or subtle key changes to explain variation.
Another way Fleischer used to describe variation was reading student-written variations of "Twinkle Twinkle Little Star," much to the enjoyment of the class.
Fleischer then let students take turns saying pairs of phrases in different tones to illustrate the importance of inflection and explained to students that how you say something matters just as much, if not more, than what you are saying and the same is true with music.
Another of the lessons involved marching to demonstrate the meter used in march-style songs and dancing to show the meter in Waltzes. While Fleischer acted out the meter, students guessed the time used in song.
"He is just so good with the kids and we are so lucky to have this kind of program happening in our school. The kids are learning a lot," said Dobbins librarian and computer monitor Lois Donnavant.