---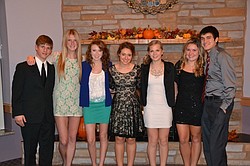 Photo
The Canfield cross country team honors its senior during the recent team banquet. Those honored were, from left, Alex Nishwitz, Emma Lunne, Jamie Watt, Leah Vitek, Libby Urig, Rachel Wyand and Andy Russo.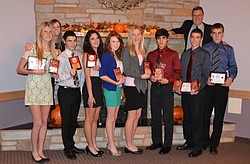 Photo
Coaches honored several runners with awards at the banquet. Pictured, from left, are Emma Lunne, assistant coach Candace Eagon, Kyle Anderson, Anna Luongo, Jamie Watt, Rachel Rostek, Chase Kearn, Alec Kennedy, Coach Doug Weitzmann and Rollin Bresson.
The Canfield cross country team held a banquet Nov. 6 to celebrate a successful season and honor its athletes.
A total of 34 athletes earned a varsity letter based on their performance during the recent season. First-year letter winners included freshmen Rachel Rostek, Pragi Patel, Victoria Pacheco, Jenny McClune, Chase Kern, Tommy Donadee, sophomores Sarah Wyand, Angelina Sorice, Tyler Tarashawty, Sam Ranttila, Mack Mettille, Amy Goddard and Victoria Bosze, junior Brittany Bettile and seniors Libby Urig and Leah Vitek.
Second-year letter winners included sophomores Rajan Solanki, Hannah Nischwitz, Bryan Kristan, Emily Burton and Kyle Anderson, juniors Gary Zamary, Mike Solomon, Tyler Kennedy, Alec Kennedy, Tim Fernstrom, and Richie Abel and senior Rachel Wyand.
Third-year letter winners were juniors Rollin Bresson and Anna Luongo. Seniors Alex Nischwitz and Andy Russo. Fourth-year letter winner was senior Emma Lunne.
Other special awards were handed out as well. Receiving Rookie of the Year awards were freshmen Rachel Rostek and Chase Kearn. The Coaches Award was given to senior Jamie Watt and sophomore Kyle Anderson. Most Improved runners were juniors Anna Luongo and Alec Kennedy. The Most Valuable runners were senior Emma Lunne and junior Alec Kennedy.
Every runner who completed the season set at least one new PR (personal record). The team's season concluded at the district race Oct. 20. Ten of the team's 14 runners equaled or set new PR's at the district race. Runners who equaled or set new personal records (PR's) at the district meet were Rollin Bresson, Tyler Kennedy, Alec Kennedy, Bryan Kristan, Mack Mettile Emma Lunne, Jamie Watt, Victoria Pacheco, Anna Luongo and Victoria Bosze.
Qualifying and competing at the regional championships Oct. 27 at Boardman High School were Rollin Bresson and Emma Lunne. Qualifying out of the regional championships and competing at the state meet Nov. 3 was Emma Lunne.
Emma Lunne, Rollin Bresson and Alec Kennedy were named to the All-American Conference first team. Tyler Kennedy and Rachel Rostek earned All-American Conference honorable mention. Lunne was also presented with an All-Ohio Academic Award.