Canfield Rotary hosts annual Lighting of the Green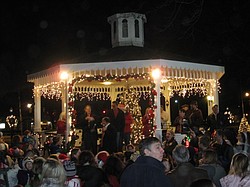 Photo
The Rotary Club of Canfield celebrated its annual holiday tradition with a crowd of more than 600 during its Lighting of the Green Nov. 30.

Photo
Alexa Joseph, of Canfield, took full advantage of Santa's visit to the Canfield Township Hall and shared with him what she wanted for Christmas during the Rotary Club of Canfield's Lighting of the Green Nov. 30.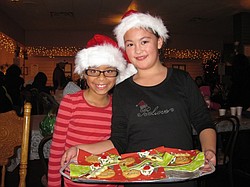 Photo
Neighbors | Abby Slanker.Helping to serve cookies at Piccadilly Parlour during the Rotary Club of Canfield's Lighting of the Green were Nadia Fountain (left) and Gabi Jones. Jones' aunt, Claudia Zacharko, is the owner of Piccadilly Parlour.
By ABBY SLANKER
The Rotary Club of Canfield kicked off the holiday season with its annual Lighting of the Green Nov. 30, an event that featured a live nativity, horse-drawn carriage rides, refreshments, a craft for the children and a visit with Santa.
Anthony Nacarato, Lighting of the Green chairman, welcomed the crowd of more than 600, which included Rotary President Brianna Padon, Rotary President Elect Randy Swartz, Canfield Township Trustees Marie Izzo-Cartwright and Tony Bettile, City of Canfield Councilmen John Morvay and Steve Rogers, Pastors Larry Bowald of Canfield Presbyterian Church, Jay Eastman of Canfield Christian Church, Susan Brown of Canfield United Methodist Church, Jill Barton, Rush Church youth pastor and several Rotarians.
"This is a wonderful way to celebrate a wonderful, festive season," Nacarato said as he welcomed the crowd.
Before the lighting, Brown offered the opening prayer and words from Isaiah and Bowald played the guitar and led the crowd in singing the Christmas carols "Away in a Manger" and "Silent Night." Eastman offered a reading and Barton led the crowd in a game of hot potato, substituting the potato with a wreath of jingle bells. She asked the crowd to pass the bells around while singing "Jingle Bells" and whoever was holding the bells when the music stopped was to name one thing they were thankful for.
Members of the Canfield High School Interact Club also provided a live nativity next to the gazebo.
When it came time to light the Green, Nacarato asked the children to come forward and passed out buttons for them to press to turn on the lights. Santa arrived at the Green in his horse-drawn sleigh, with an escort from the Canfield Fire Department.
Nacarato encouraged attendees to visit Piccadilly Parlour for complimentary hot chocolate, coffee, cookies and live music while waiting for a horse-drawn carriage ride, which was stationed outside the restaurant.
He also told the children that Santa would be waiting for them in the Township Hall, with complimentary professional photos provided by Picture This Studio. Refreshments were also served at the hall.
Rush Church set up shop at the Canfield United Methodist Church to offer children the opportunity to make a holiday ornament to take home.
Local business sponsors included Farmers National Bank, Pharmacy Care of Canfield, Dr. Pamela Barkett, Inner Circle Pizza of Canfield, Something New Florist, Bodine and Perry, Stepuc Farms, White House Fruit Farm, Giannio's Candy, Nemenz IGA Struthers and Lincoln Knolls, Oven Fresh Pizza, Canfield Giant Eagle, MultiMedia Farms, Reach Magazine and Olfield Graphics.
Rotarian family sponsors, which provided the horse-drawn carriage rides, included Doug and Darlene Tepe-Sipp, Harold and Laura Reed, Randy and Mary Swartz, Joe and Linda Warino, Sieglinde and Larry Warren, Twila and Bill D'Amico, Tony and Kim Bettile, Sam and Donna Boak, Gail and Jill McCullough and Anthony and Josie Nacarato.