Math Night brings kids, parents together in Springfield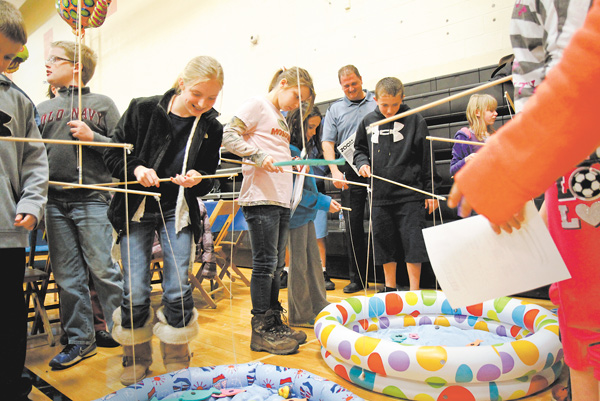 Photo
Fifth-grade students at Springfield Intermediate School catch numbered fish with magnetic poles from inflatable kiddie pools, then calculate the mean, median and mode of numbers. The activity was part of a camping-themed Math Night on Thursday in the school gym.
SPRINGFIELD
Springfield students and parents went on a camping adventure Thursday night.
Although the tent was indoors, there were real problems. Math problems, that is.
Fifth-grade math teacher Kim Rutkowski planned Math Night as a way to get students and parents to interact and solving math problems. About 200 people attended, including about 85 percent of the fifth-grade class.
"This is probably the eighth Math Night I've done at Springfield. We try to do it once a year. This is a chance to give parents and children a way to work on math activities in a fun and educational way," Rutkowski said.
Participants spent about 10 minutes at each of the seven stations set up in the Springfield Intermediate School gym.
At one station, students "caught" three magnetic fish from a kiddie pool. Each fish had a number on it, and students were challenged to find the mean, median, mode and range.
That part was a favorite for 10-year-old Carmen Merolillo and his mother, Paula Merolillo.
"We had to find averages with decimals and fractions, too," he said.
His mom called the event "wonderful."
"It gets parents involved, and it's great to see such a huge turnout," Merolillo said.
Giavanna Angelilli, 10, said she enjoyed using math to outline the constellation Ursa major, also known as the "Great Bear."
"I like the graphing and figuring out what the picture was," said Giavanna, who was with her mother, Jennifer Angelilli.
Angelilli praised the Math Night offerings.
"This is building the educational experience between parent and child and creates an excitement for learning," she said.
Other stations required students to estimate the cost of camping groceries, calculate the volume of a cooler, create a triangular tent, determine the perimeter of sleeping bags and graph the contents of trail mix.