Boardman grad contributing with unbeaten MSU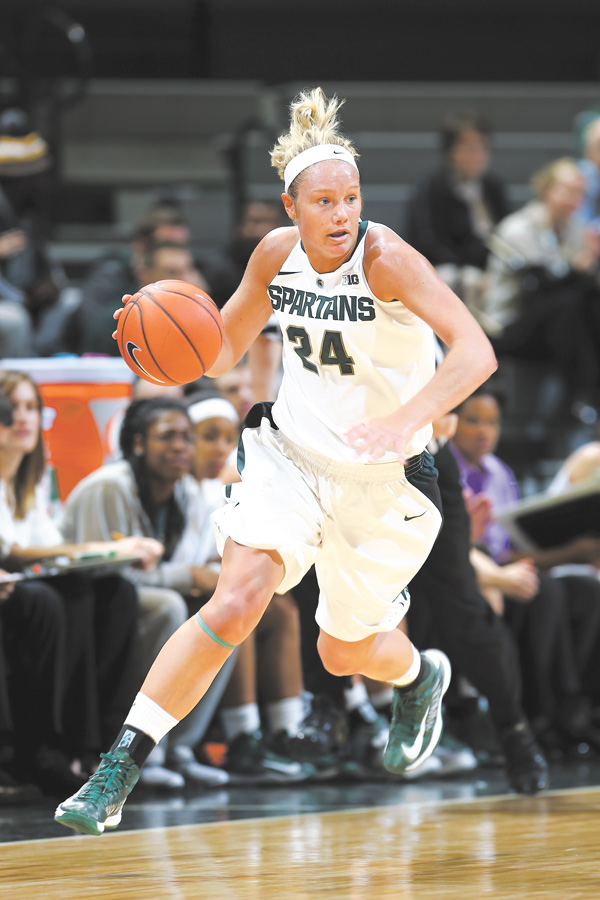 Photo
Former Boardman High School basketball standout Courtney Schiffauer is having her best start with the unbeaten Michigan State Spartans since she tore the ACL in her right knee during the 2009-10 season.
Schiffauer a force for Michigan State women
If Courtney Schiffauer's quiet telephone voice reflected her performance on the basketball court, she'd be in trouble.
Instead, the 6-foot-1 Michigan State University player becomes a megaphone of muscle against Big Ten bodies in a test of survival that Schiffauer has managed to master at the college level.
The former Boardman High School player started in the first eight games for the unbeaten Spartans from Lansing with a team-leading nine rebounds in wins over Virginia Tech and Robert Morris.
"I guess I'm pretty strong, so I pride myself in that," said Schiffauer, 22, who won the MSU women's basketball hustle award at last year's banquet.
"This season is the best start I've had," said the fifth-year player who appears to have recovered from a torn ACL injury in her right knee suffered during the 2009-10 season when she missed the final 31 games.
"I have no problems at all," said Schiffauer, who, ironically, moved into the forward role last year when a 6-7 teammate had a similar torn ACL.
"We were short on post players, so I was moved inside," Schiffauer said of her new No. 4 position.
The second-year captain describes herself as a scrappy player, whose primary job is rebounding. As a byproduct, she's scored 57 points or 7.1 per game. She is averaging 6.9 rebounds.
"We've focused on defense and held teams under 38 points," Schiffauer said of MSU opponents. I've been especially tenacious in rebounding," she said of her team-high 40 so far.
The Spartans had a stiff test at North Carolina State in Raleigh on Nov. 29, but won, 68-51.
"It was probably our first actual tough game," Schiffauer said in comparison to Michigan State's other three wins over UT-Arlington, Eastern Michigan and Albany.
"It's really important because that win will look really good when we're trying to get into the NCAA tourney with quality wins."
The Spartans beat Milwaukee, 81-50, on Dec.1 and Oakland, 75-43, on Wednesday night to move to 8-0.
After her medical redshirt season, Schiffauer — the daughter of Bob and Marcia Schiffauer — saw increased playing time midway through her junior year.
It came mainly after a switch from the guard spot.
"That's when I moved into a forward and I like that better."
Using her quickness against bigger forwards has its upside.
"Being more agile gives me an advantage down low, but even if I have the ball at the top of the key, I'm able to take them off the dribble easier than if I was a guard going against a guard."
Driving to the basket for layups or passing to teammates Becca Mills or Jasmine Hines are other options.
Game preparation is more sophisticated at the college level.
"There are a lot of details that we wouldn't even think about in high school and the scouting reports and film are a big part of the picture," Schiffauer said.
When playing against Ohio State in 2011-12, Schiffauer was matched up with Darryce Moore, a former Boardman teammate.
Michigan State will play the Buckeyes once in the 2012-13 regular season and possibly in the Big 10 tournament.
Schiffauer, who has one more elementary education class starting next semester, is scheduled to graduate in May.
She also seems to have a resume for work in pro basketball.
"I know about it, but don't know how official it is," Courtney said of being listed as the 31st overall pick on a wnbamockdraft.com website.
"I'd definitely look into it if the opportunity arose. I'm not against playing after this, that's for sure. I'd have to wait and see."