KSU's Hazell hired at Purdue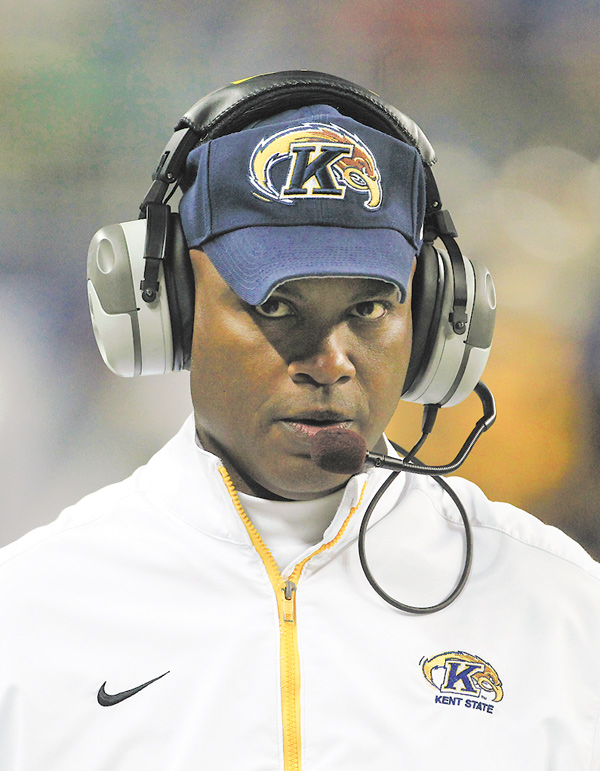 Photo
It became official Wednesday: Kent State coach Darrell Hazell was named the 35th football coach of the Purdue Boilermakers.
Ex-OSU assistant
returns to Big Ten
By PETE DiPRIMIO
The (Fort Wayne, Ind.) News-Sentinal
WEST LAFAYETTE, IND.
Can Darrell Hazell take Purdue to the Rose Bowl promised land?
He'll get his chance.
Hazell officially became the Boilermakers' 35th football coach on Wednesday. Contract terms were not announced, although reports are it's for five years at a guaranteed $2 million per year. Hazell made about $300,000 a year at Kent State before bonuses.
Hazell left Kent State with a two-year record of 16-9, including this season's 11-2 mark. Six of the victories came on the road. That set a school record for wins in a season and helped earn him Mid-American Conference coach of the year honors.
He replaces Danny Hope, who was fired after going 22-27 in four years.
"Darrell is a great fit to build on our existing foundation," athletic director Morgan Burke said in a university release. "His leadership at Kent State, combined with his prior experience at Ohio State and other stops along the way, has prepared him to help us continue to move toward developing a championship-caliber program. He understands our '25/85' vision as well as our desire to recruit both locally and nationally. Furthermore, it is clear that he appreciates the Cradle of Quarterbacks tradition, and it will remain a focal point of our program."
Hazell led Kent State to its first bowl game in 20 years. The Golden Flashes will play Arkansas State in the Jan. 6 GoDaddy.com Bowl. Hazell told the Cleveland Plain Dealer that he would like to coach in the bowl game. Purdue officials have agreed to that, but Kent State athletic director Joel Nielsen told the Plain Dealer he will make that decision.
Hazell also boosted Kent State's academic standing. A program-record 50 players had grade point averages of 3.0 or higher last spring. Players also became more active in the community.
Hazell told Kent State players about his departure early Wednesday morning. He said during the Kent State press conference that his meeting with the players lasted about five minutes. He made a statement, asked if there were any questions. There weren't any. He said the players were "somber but happy I was able to take the job."
"I told them I loved them and walked out."
Also during the press conference he said his first priorities would be to assemble a coaching staff, and contact and retain the 2013 committed recruits.
He said Purdue's attendance drop and the lack of excitement about the program were his biggest challenges.
Also, as far as his new coaching staff, he said he'll consider current assistant coaches at Purdue and Kent State. Former Youngstown State head coach Jon Heacock currently serves as Hazell's defensive coordinator with the Golden Flashes.
He said Purdue has great academics with a ton of possibilities to be successful on the football field.
Hazell previously spent seven years at Ohio State as a wide receivers and assistant head coach. He worked with receivers such as Ted Ginn Jr., Anthony Gonzales, Santonio Holmes and DeVier Posey.
"I'm extremely excited to work with the players at Purdue, and I look forward to experiencing a lot of success in the future," Hazell said in the release. "It's a wonderful opportunity. Purdue University has a great football tradition, and I can't wait to get started."
Hazell, a native of New Jersey, graduated in 1986 from Muskingum College. He earned All-American honors as a senior. He and his wife, Annmarie, have a son, Kyle.