Former supply shop owner runs national street rod tours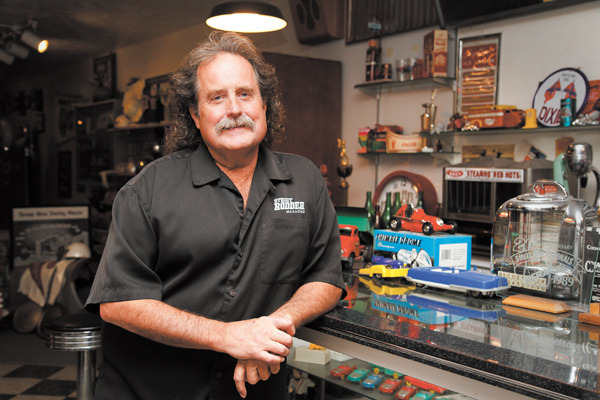 Photo
Jerry Dixey stands in his showroom at Ohio Van and Truck Supply on Mahoning Avenue. Dixey sold the business five years ago to lead street-rod tours across the U.S. He keeps a showroom at the property to display automotive memorabilia.
AUSTINTOWN
One thing has led to another for Jerry Dixey, the former owner of Ohio Van and Truck Supply in Youngstown, and now the director of a North American street-rod tour that finds him logging thousands of miles each summer.
For him, "the journey is the destination," a quote he once saw on a T-shirt but likes to reference anyway.
Dixey's journey began growing up in Canfield, when oil made its figurative path into his veins. After his father restored a 1927 Model T Ford station wagon that had been in the family for two generations, he decided to start the Mahoning County Model T Ford Club, bringing his son along to every subsequent car show from that moment on.
So it was no surprise that Dixey and his wife, Mary Ann, opened Ohio Van and Truck Supply in 1976 at what he calls "the height of the custom-van craze."
In 1989, Dixey had an idea to decorate a separate showroom at his location on Mahoning Avenue with a variety of automotive memorabilia he'd collected over the years.
"We decorated, and everyone said 'This stuff is so cool, where did you get it?'" Dixey said. "So we put together a 24-page, full-color catalog in 1990 and started a subsidiary called Classic Automobilia."
The catalog included everything from old pedal cars to gas pump globes and tin signs. Dixey lined up the suppliers and he was tasked with marketing the products in descriptive write-ups for the catalog.
That caught the eyes of editors at Street Rodder Magazine, a nationwide publication that covers the hobby coast-to-coast. Dixey quickly was enlisted to write for the magazine, and the rest is history.
"In 1996, I came up with this idea to build a car and drive it around the U.S. to cover car shows, take pictures and write about my experiences," he said.
The magazine bought into the idea, and sponsors were solicited to pay for Dixey's car and what is now the AMSOIL/Street Rodder Road Tour.
Over the course of 17 years, the tours have morphed into an event that has demanded more of Dixey's time. Five years ago, he sold Ohio Van and Truck Supply to an employee, though he still owns the building and a private showroom there for his memorabilia.
He consolidated his subsidiary, Classic Automobilia, by scaling it back and shifting online to classicautomobiliausa.com, where customers still can browse items and place orders by telephone.
All to focus on the road tour and documenting his experiences.
Each summer as director of the event, Dixey books rooms, maps routes and schedules visits at points across the U.S. and Canada. The tour occurs during eight separate weeks, when Dixey leads a pack of more than 75 hot rods on visits to museums, manufacturing plants and big-name car shows such as the National Street Rod Association Street Rod Nationals in Louisville, Ky.
"What we wanted to do with the road tour is show people that they shouldn't be afraid to drive these cars," Dixey said. "The industry makes great products, and it's safe to drive them long distances."
Traditionally, hot rods were considered modified special-interest vehicles, usually pre-1948. But over the years, as younger enthusiasts took up the interest, the definition now includes muscle cars from the 1950s, '60s and '70s, too. Consumers also can purchase kits from custom retailers to build hot rods on their own, or hire special garages to build a model to specification.
For his achievements, Dixey, who now lives and works from his home in Austintown, was selected to receive the National Street Rod Association Street Rodding Achievement Award earlier this year, which goes to one individual nationwide.
"It was fantastic, a culmination of a lot of efforts," Dixey said when asked what it was like to receive the award. "It was a great chance to be in front of my peers and thank my wife, partners and sponsors who have been with me along the way."