Choffin students learn from new aquaponics program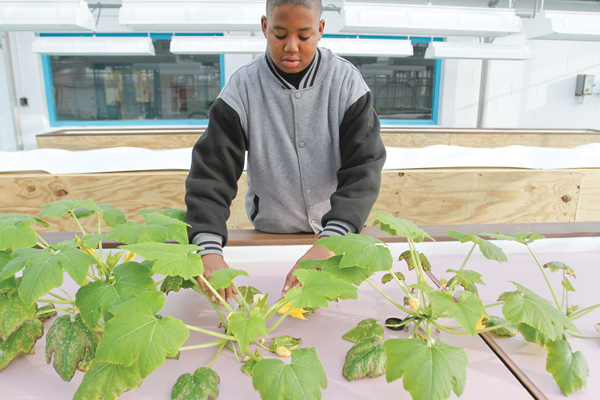 Photo
Antwan Anderson, a student at Choffin Career and Technical Center, checks his squash plants that are thriving in beds at the school. The plants are part of the aquaponics program. Aquaponics is the raising of fish and plants in a closed ecosystem.
By DENISE DICK | denise_dick@vindy.com
The first crop has already been harvested from the aqua-ponics lab at Choffin Career and Technical Center in Youngstown.
Several varieties of lettuce grown by the students were picked and sold to school personnel.
"It was delicious," said Renee English, Choffin spokeswoman.
Aquaponics — the cultivation of fish and vegetation in a closed ecosystem — is a new program this year at Choffin. School officials believe it's the first in Ohio.
Antwan Anderson, 16, a sophomore at Choffin, said the students are growing beans and squash as well as the lettuce in a greenhouse on the school campus. He has another crop in mind.
"I'd like to grow tomatoes," he said.
The vegetables grow with water from tilapia housed in tanks in the building's basement,
Antwan explained.
A series of pipes and pumps connect the tanks to the vegetable garden beds upstairs. Waste from the fish fertilizes the plant beds, and the plant beds filter the water that goes back into the tank.
Sophomore Jamee Robertson, 15, likes the aquaponics program and said the best part is being able to see the fruits (and vegetables) of her
labor. She's grown strawberries with her family at home but the class marked a first for lettuce.
The tilapia, used for the project because of their
resilience, are all in one tank now but as they grow, they'll be transferred to
other tanks.
When the tilapia
grow to about 2 pounds, the school plans to distribute them to people in need. As the program continues, the school may sell the fish.
The greenhouse that's now home to the aquaponics program had sat empty for years after a horticulture program shut down because of lack of interest. The building had to be cleaned out, tanks and beds built and the piping installed to prepare for the new program.
Choffin students in the masonry, commercial art, construction technology, heating, ventilation and air conditioning and home and building maintenance programs completed that work.