Browns' Thomas blasts ex-teammate Hillis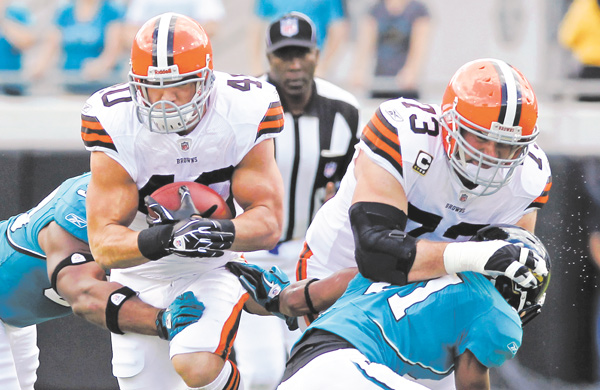 ---

Photo
Cleveland Browns left tackle Joe Thomas (73) once blocked and did all he could to protect Peyton Hillis (40. But on Wednesday, Thomas blasted his former teammate, calling Hillis "a terrible distraction" and saying the running back put his contract situation ahead of the team. Hillis is returning to play in Cleveland on Sunday with the Kansas City Chiefs.
Browns' LT blasts ex-teammate
Associated Press
BEREA
Browns offensive tackle Joe Thomas once blocked and did all he could to protect Peyton Hillis from harm.
On Wednesday, he steamrolled his former teammate.
With Hillis coming to Cleveland this week as a member of the Kansas City Chiefs, Thomas unloaded on the bruising running back, saying he didn't always play hard and accused Hillis of putting his contract situation ahead of the team.
Thomas felt it was selfish behavior.
"It was a terrible distraction," Thomas said following practice. "He crippled our offense. We were struggling to find anybody who could carry the ball after all the injuries we had. To have Peyton going through a contract dispute and basically refusing to play, it was a big distraction. But more than anything, he was our starting running back that was a good player who was going to help us be a successful offense.
"When he's not there and you don't have anybody to turn to, it makes it hard to win. And that's the distraction, it's not being successful."
Hillis was the toast of Cleveland in 2011. He rushed for 1,177 yards, scored 11 touchdowns and endeared himself to Browns fans with his bull-in-a-china-shop running style. Following the season, Hillis was selected to have his likeness on the cover of the popular Madden video game, a choice that seemed to trigger his undoing.
He wanted a long-term contract with the Browns, and took his campaign public. From the start, his season unraveled as greed seemed to consume him.
"He was everything people knew about him — hard-working, blue-collar, tough, would do anything for anybody on the team," Thomas said. "All he cared about was winning, and then all of a sudden the next year, all he cared about was trying to get his new contract."
Hillis sat out Cleveland's third game with strep throat on the advice of his agent, Kennard McGuire. He missed several other games with a hamstring injury, and while he was rehabbing one week, Hillis left the team and missed a treatment to get married in Arkansas. There were other issues, including when Hillis skipped a Halloween charity event for kids — an absence he blamed on a miscommunication.
It was a soap opera.
And to Thomas, it never seemed to end.
"It was kind of one weird thing after another more than anything," Thomas said. "We have guys getting married during the season and it's not a big deal. When you're injured (Thomas used his fingers to make quotations in the air) and you should be getting treatment, to go do your own thing repeatedly was just disrespectful more than anything to his teammates.
"I don't think people would have acted the same way if they were in that situation."
Thomas was one of several veterans who intervened during the season and encouraged Hillis to clean up his act. Thomas said Hillis made things hard on himself, and in turn, on everyone else.
"You see a lot of guys in contract disputes, like Matt Forte," Thomas said. "His solution was 'I'm going to go out and prove they have to have me and they can't play without me.' The frustrating thing to a lot of teammates was you would try to talk to him and you try to tell him 'That's not the right way to do it if you want to get your big contract.' He just wouldn't listen to anybody.
"… He thought he knew the right way to do it and it ended up not being the right way and hurting everybody. Not just himself. It was a tough situation."
Hillis never did get that long-term contract with the Browns, who decided to let him hit the free-agent market. He signed a one-year deal with the Chiefs during the offseason. He has rushed for 193 yards on 59 carries with one TD so far this season.
Thomas said he couldn't imagine Hillis still being around.
"I think it was better for both sides [he left)]. At that point, the situation with him here was toxic and he didn't want to be here and players didn't want him here. It was better for a fresh start."