Wolfe powers Poland to victory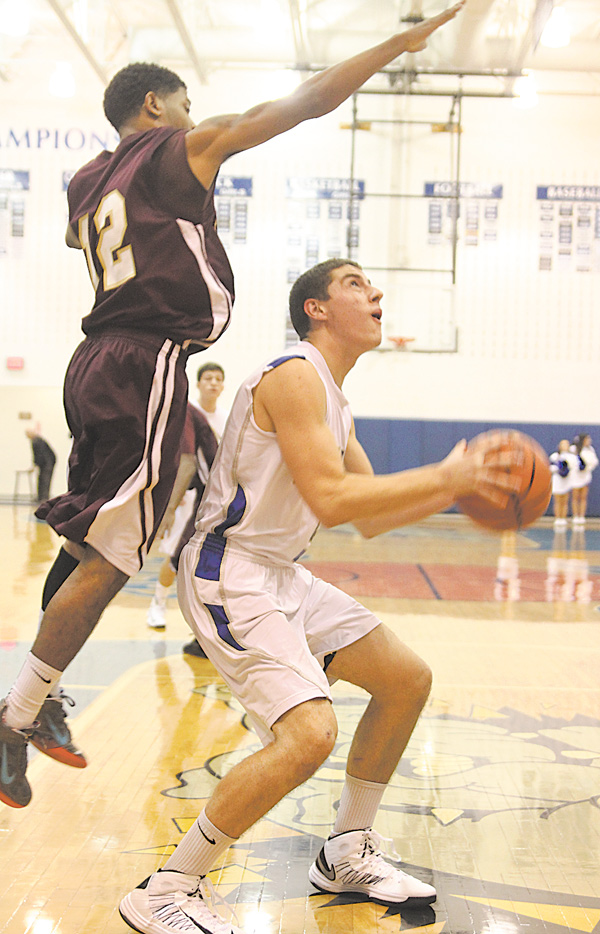 ---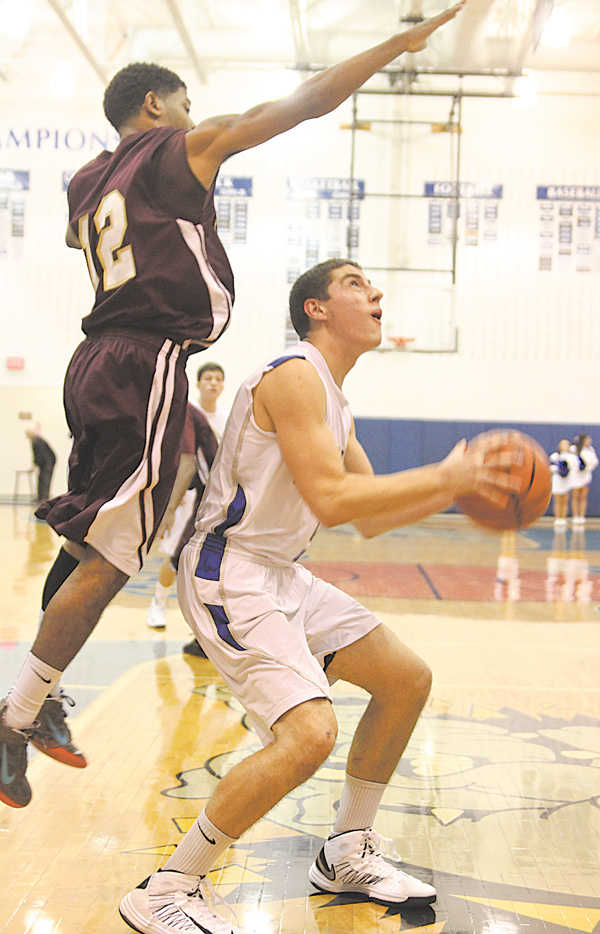 Photo
Poland's Jacob Wolfe (5) looks to go up for a shot as Liberty's John Helms Jr. (12) goes for a block Tuesday night. The host Bulldogs beat the Leopards, 51-41.
By Ryan Buck
POLAND
With just under three minutes remaining in his team's clash with Liberty on Tuesday night, Poland boys basketball coach Ken Grisdale ordered his star over to the bench for a swig of fruit punch-flavored Gatorade.
Bulldogs' junior forward Jacob Wolfe, with a look that screamed exhaustion and frustration, had just been called for his third foul as the Bulldogs clung to a hard-earned seven-point lead.
"The trainer called me over when we were on the sideline and yelled, 'He's cramping!' I said that I can't call him off the foul line," said Grisdale, now in his 20th season. "That was a way to get him a drink and slow him back down."
Wolfe, after all, had earned it. He led Poland to its second win of the season with 31 points, most coming in the paint, in a 51-41 win over the Leopards at the Poland High Fieldhouse.
After scouting and film sessions, Poland had planned to utilize their big man early and often.
"Right now, he's our sole starter back and we build a lot around him," Grisdale said. "A lot of those adjustments that we'd scouted, we thought that we could take advantage of with him. They like to switch screens and we tried to get some smaller kids to switch on to him in the post."
Wolfe buried his first five shot attempts, unleashing an arsenal of post moves to spark a 17-12 lead at the end of the first quarter they wouldn't relinquish.
"I saw this summer that was a part of his game that I didn't know he had and coming into this season," Grisdale said. "I knew we had to find ways to get him the ball down on the block."
While doggedly fighting to stay within striking distance, Liberty, with several key players recovering from their postseason football run, couldn't contain Wolfe and the offensive execution of the Bulldogs.
"In a tough situation like this, it shows," said second-year Liberty coach Dan Bubon. "It's a program versus somebody who's trying to be a program. They've been doing the same thing for years. Their kids know exactly where to go at all times and we're not there yet."
Two minutes into the second half, Liberty forward Darrien Underwood cut the Poland lead to 23-20 with two of his six points on the night. After a make from Poland guard Kevin White, Wolfe scored on the Bulldogs' next three possessions to open up an 11-point lead.
For every Liberty run, Poland seemed to have an answer.
"It was just to get a bucket and get a stop," said Wolfe on how his team responded. "I think we did a really good job of that tonight."