Devils rely on Pugh vs. Ridge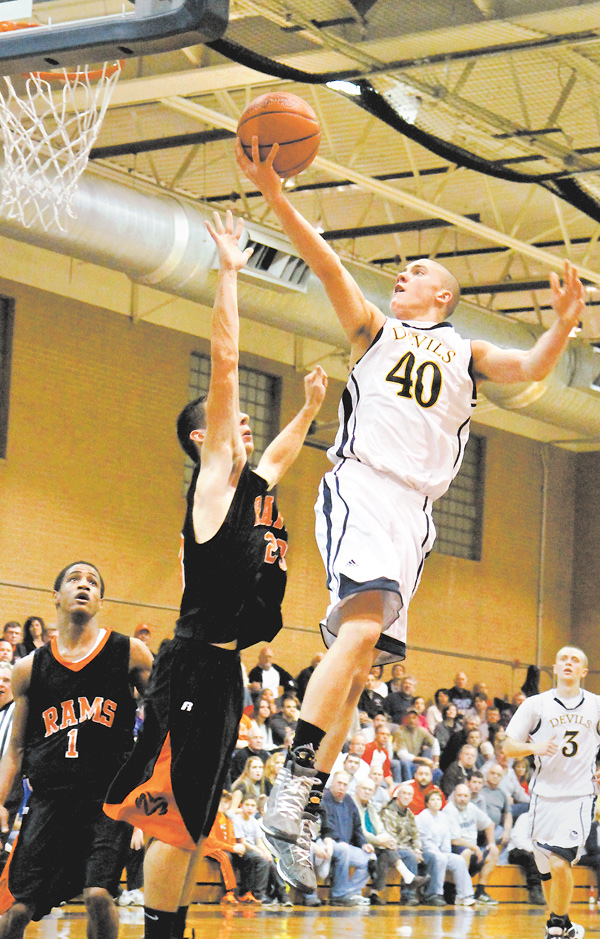 ---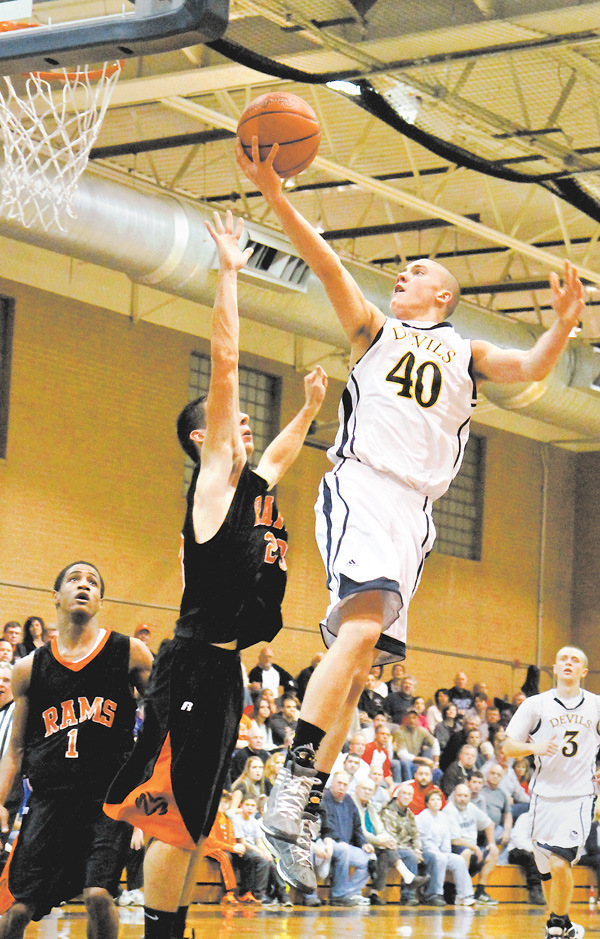 Photo
McDonald's Matt Seitz (40) goes up for a shot as Mineral Ridge's Nathan Palmer (23) defends Tuesday night. McDonald won, 82-73.
By Steve Wilaj
McDONALD
McDonald sophomore point guard Anthony Pugh — the smallest, youngest-looking player on the Blue Devils roster — holds the biggest responsibilities for his team.
"My role is mainly the floor general," Pugh said. "Coach [Jeff Rasile] always tells me I'm the one who needs to settle everybody down and get everybody where they need to be. And then when my opportunity comes to knock the shot down, I need to knock the shot down."
Pugh played his role efficiently Tuesday night, as he scored 14 points while running the offense, leading the Blue Devils to an 82-73 victory against Mineral Ridge.
Pugh knocked-down his open looks, making all four of his 3-point shots.
"I attribute it to my teammates getting the ball to me and getting me open," he said.
In addition to his "floor general" responsibilities, Pugh – perhaps 5-foot-6 and 130 pounds — holds another obligation:
Take heat from Rasile.
A stomping, screaming Rasile frequently greeted Pugh when play stopped.
"I just gotta take it," Pugh said with a chuckle. "I mean there's not much to it. He's an intense guy. But definitely when you're going to war, you want coach Rasile by your side, no doubt."
While the term "war" would be a stretch, the Blue Devils (2-0) received quite the battle from Mineral Ridge (1-1). Behind Nathan Palmer's 32 points on 15-of-28 shooting, the Rams hung around for the entire game.
Although McDonald led for much of the time, Mineral Ridge cut the deficit to 64-55 early in the fourth quarter. But the Blue Devils kept the lead around 10 from that point on.
First-year Rams coach Chris Kohl said his team missed many fourth-quarter opportunities.
"When you have your opportunities in a game against a team like McDonald, you really have to convert on them," he said. "But we were gassed. That kind of tempo takes the wind out of you."
Tyler Smith scored a team-high 18 points, Stephen Politano scored 17 and Matt Seitz added 13 for the Blue Devils.
Still, Rasile wasn't particularly pleased. Like Kohl, he said his team missed plenty of opportunities.
"If we would have made layups and free throws, they never would have cut it," he said. "We had an opportunity in the middle of the third quarter to blow this game wide open and we didn't do that."