Comic artist Chris Yambar speaks at Hubbard library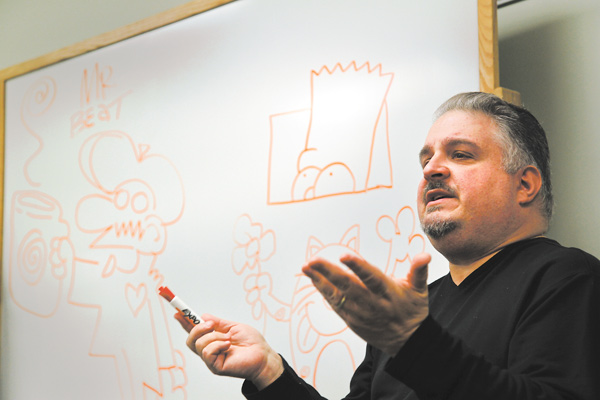 Photo
Chris Yambar, a comic-book writer and artist who has worked on "The Simpsons" comic book, speaks to members of the Young Adult Club of Hubbard Public Library. Yambar made a presentation at the library Tuesday.
By Danny Restivo
HUBBARD
A legendary comic-book artist offered a small piece of advice for some young adults:
"Do what you love, and love what you do," said Chris Yambar, a Youngstown native and a comic-book writer-artist who has worked on "The Simpsons" comic book as well as several of his own titles.
His advice was for some members of the Young Adult Club of the Hubbard Public Library who came to watch Yambar demonstrate some of his drawing techniques at the library Tuesday evening.
Yambar, who has created more than 2,500 works of art and drawn for a comic that is circulated throughout 22 countries, showed how to draw various animated characters, including Bart Simpson. His knowledge was well received by some young people looking to follow a similar career path.
"It's pretty cool hearing from someone that is as accomplished as he is," said Kaitlyn Foley, who plans on studying game design at Kent State University next fall.
"I already draw a lot, and I'm into Japanese comics," she said.
While he offered the group of 30 people, from toddlers to adults, different techniques for drawing, Yambar fielded questions on how he got involved with comics.
Yambar said he started his first comic book when he was in sixth grade and sold it to his classmates for 25 cents apiece. He admits it was an amateur business experience, but it taught him to keep learning about the world.
"The more you know, the more you can draw from," he said.
Gabriel Cuddy, 16, of Hubbard said he's involved with interactive media at the high school. Like Foley, he wants to program video games. He said he enjoyed Yambar's presentation and hopes it will reflect in his future artwork.
"I'm not a particularly good at drawing, but I still like it," he said.
According to Yambar, its OK to struggle. He told Cuddy and the rest of the attendees to utilize every available hour to hone their craft.
"You have 24 hours a day to invest in what you want to do for the rest of your life," he said.
More like this from vindy.com
December 5, 2012 12:06 a.m.