Boardman kids honor Rachel's contagious compassion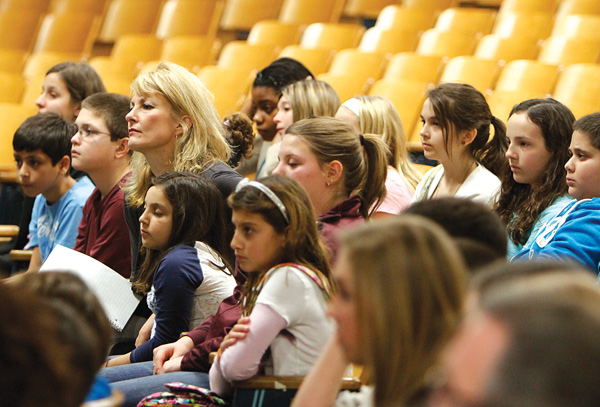 Photo
Boardman Center students learn about Rachel's Challenge and how they can help others and create a culture of compassion at their school.
By Ashley Luthern
aluthern@vindy.com
BOARDMAN
Cultivating a culture of compassion at a school?
Challenge accepted, say Boardman Center Middle School students.
Jimmy Braden, a presenter for Rachel's Challenge, was at the school Tuesday to promote the message of compassion, kindness and helping others.
The nonprofit organization was founded by Darrell Scott, father of Rachel Joy Scott, who was the first student killed in the 1999 Columbine High School massacre.
Including Scott, 12 students and one teacher died in the shooting.
In an essay written shortly before her death, Scott wrote: "I have this theory that if one person can go out of their way to show compassion, then it will start a chain reaction of the same. People will never know how far a little kindness can go."
That message forms the basis of Rachel's Challenge.
Students heard about Rachel and her story Tuesday morning, including how she and her brother had bickered the morning of the shooting, which Craig survived.
"When I heard how her brother and her had a fight, I felt bad. I just had an argument with my sister this morning, and I just want to tell her I'm sorry," said fifth- grader Chase Picino.
Sixth-grader Miles Spearman said the presentation made him want to thank people who showed him kindness.
"When I went to middle school, I didn't know a lot of people, and a lot of people were really nice to me, and I was thankful for that," he said.
Chase and Miles were two of 100 students who were trained Tuesday afternoon to form a Friends of Rachel Club to promote kindness, compassion, respect, helping others and reaching out.
Braden said there are thousands of FOR clubs in schools across the country.
"It's more than a service club. It's a way of life," Braden said.
Boardman students started by identifying problems at their school: rumors, cliques, bystanders, racism and exclusion of students.
"It's because you let it happen. You have the power to change this stuff. You've chosen to treat each other this way," Braden said.
He then led students through strategies to change the culture and outlined possible club projects, such as creating a paper-chain with random acts of kindness written on each link.
Another suggested project was writing letters of appreciation — something Center students had already done, said Karen Kannal, the school's parent outreach coordinator.
"They sent out 700 letters of appreciation two weeks ago and invited the [recipients] to today's program," Kannal said.
Kannal and Principal Randy Ebie said the club will build on what already is in place, including a "Where Everybody Belongs" mentoring program at Center and Glenwood middle schools and Boardman High School.
They plan to spread the FOR club to those other schools, too.
Ebie said Center has undergone many changes from the team-teaching approach to longer class periods.
"The one piece missing was this," he said.