Neffs honored with dinner for 50th anniversary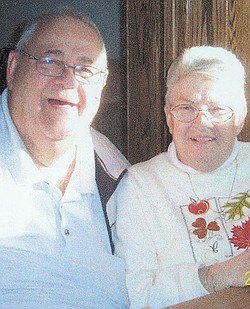 Photo
MR. AND MRS. RONALD L. NEFF
AUSTINTOWN
Mr. and Mrs. Ronald L. Neff of Austintown celebrated their 50th wedding anniversary during a dinner Nov. 17 at Wickliffe Presbyterian Church, where they are members.
Hosting the event were the honorees' four sons and their wives, Earl R. Sr. of Poland, Robert C. of Youngstown, and Thomas L. and Paul R., both of Austintown. Their family is completed by 12 grandchildren and one great-grandchild.
The former Ada May Deiger and Mr. Neff were married Nov. 17, 1962, at Christ Presbyterian Church in Youngstown.
Mr. Neff retired in 2005 as an environmental inspector for Mahoning County Health Department. He is a member of Sulgrave Lodge 696 Free and Accepted Masons.