Levy family honors couple for 50th anniversary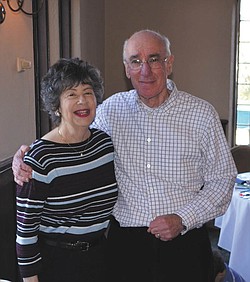 Photo
LIBERTY
Marcia and Newman Levy of Liberty celebrated their 50th wedding anniversary at a party given by their children on Thanksgiving Day at Youngstown Country Club.
Out-of-town guests included their children Yale and Lauren Levy and grandchildren Josh, Matthew and David of Bexley, Ohio, and Jeffrey and Susan Levy and grandchildren Sydney, Isabelle, Dylan and Sloane of Solon, Ohio.
The couple were married Nov. 24, 1962, at Congregation Rodef Sholom in Youngstown.
Mr. Levy was a certified public accountant in private practice for 50 years and retired last November. He is a stamp and coin collector.
Mrs. Levy is a registered dietitian and nutritionist in private practice in Liberty. She enjoys knitting, line dancing and genealogy and is a volunteer with Grandmas for Education at E.J. Blott Elementary School, Liberty.