Jacksons honored by family party at 65th anniversary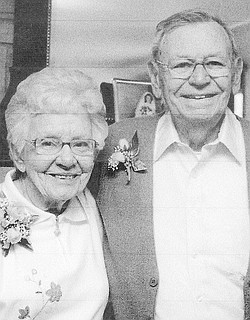 Photo
MR. AND MRS. SIDNEY JACKSON
VIENNA
Mr. and Mrs. Sidney Jackson of Vienna, formerly of Struthers, celebrated their 65th wedding anniversary Oct. 25 with a family party. The event was at the home of their daughter, Jeanette Gollan of Brookfield, and co-hosted by their son, James Jackson of Niles.
Five grandchildren and three great-grandchildren complete the family.
The former Ruth Nelson and Mr. Jackson were married Oct. 25, 1947, in Struthers. The couple are members of Struthers Presbyterian Church.
Mrs. Jackson retired as a registered nurse from Youngstown Hospital Association. She is a U.S. Cadet Nurse Corps veteran of World War II.
Her husband retired as a mail carrier for the U.S. Postal Service in Youngstown. He served in the U.S. Navy during World War II.