Holiday Hopes and Wishes benefit Dec. 14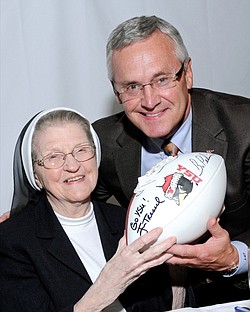 Photo
Neighbors | SubmittedSeveral prominent members of the community attended the centennial Dinner for Sister Jerome's Poor on Oct. 11 at The Georgetown to raise money. Pictured are Sister Jerome (left) and Jim Tressel (right).
BOARDMAN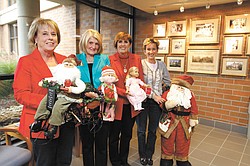 Photo
The Holiday Hopes and Wishes committee prepares for the Dec. 14 luncheon, bake shoppe and basket raffle to benefit Akron Children's Hospital Mahoningn Valley at Mr. Anthony's in Boardman. From left are Dynna Hayat, Betty Cmil, Julie Costas and Kathy Dwinnells. PHOTO BY: ROBERT K. YOSAY | THE VINDICATOR
Holiday Hopes and Wishes luncheon, bake shoppe and basket raffle will be Dec. 14 at Mr. Anthony's, 7440 South Ave.
The Kids' Crew of Akron Children's Hospital Mahoning Valley, a committee of volunteers, will host the event to benefit the hospital's NICU and special-care nursery.
A social and shopping will begin at 10 a.m. with the luncheon at 11:15 and program and raffle at 12:15 p.m.
Cost is $35 per person; tables of eight are available for $280. Major sponsorships are $1,000, and event sponsorships are $500.
Reservations are due Friday.
For information call 330-746-9122.