Roxanne Nock, Patrick Lombardo to wed Dec. 14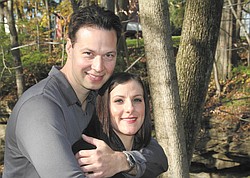 Photo
PATRICK LOMBARDO AND ROXANNE NOCK
Roxanne Nock of North Royalton, Ohio, and Patrick Lombardo of Olmsted, Ohio, are announcing their engagement.
The parents of the bride-elect are Bob Nock and Kathy Bonace, both of Lowellville. The future groom's mother is Donna Lombardo of Campbell. His father, Charles Lombardo, is deceased.
St. Mary of the Falls Church in Olmsted Falls will be the setting of the 4 p.m. Dec. 14 wedding ceremony. An evening reception will follow at Wagner's Country Inn, Westlake. Invitations have been extended for both.
The bride-elect received a bachelor's degree in social work from Youngstown State University. She is social services director at Altenheim and Shurmer Place, Strongsville, Ohio.
The prospective groom received a bachelor's degree in finance and history from YSU and a master's degree in business administration from Cleveland State University. He is a financial analyst for BakerHostetler, Cleveland.