Austintown racino expected to draw 1M guests per year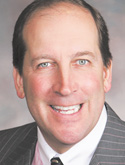 ---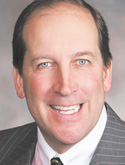 Photo
YOUNGSTOWN
Penn National Gaming Inc. officials say they expect about a million visitors a year to its Austintown horse racetrack with slot machines when it opens in the first half of 2014.
The slot machines will oper- ate at least 20 hours a day, seven days a week, at the facility, to be called Hollywood Slots at Mahoning Valley Race Course, said Timothy J. Wilmott, Penn National's president and chief operating officer.
Wilmott and Eric Schippers, the company's senior vice president for public affairs and government relations, met Thursday with The Vindicator's editorial board after the former gave the keynote speech Thursday at the Youngstown/Warren Regional Chamber's Salute to Business breakfast at Mr. Anthony's in Boardman.
State law permits up to 2,500 slot machines at its horse racetracks, but Austintown will start with 1,500, Wilmott said.
"If this market is bigger than we thought, we can add another 1,000 machines," he said.
Penn National is spending $250 million to locate the facility in the Valley. Of that, $100 million will be spent on the slot machines, a restaurant, entertainment facility and retail businesses and $25 million for the thoroughbred racetrack, grandstand and stables, Wilmott said.
In addition to the $125 mil- lion Penn National is spending on Hollywood Slots — most of the company's racetracks and casinos are branded "Hollywood" — it will pay $75 million to the state in a relocation fee and $50 million to the state lottery commission for a licensing fee for the slots.
The facility will have live racing about 55 to 60 days a year and simulcast races from other tracks, Wilmott said.
It will create 1,000 direct and indirect jobs and about 1,000 construction jobs, he said.
Penn National is relocating Beulah Park, a track it owns near Columbus, to the 186-acre Centerpointe property in Austintown, off state Route 46 near the Interstate 80 interchange. The company purchased the property in April for $4.6 million.
It also plans to move its Raceway Park harness track from Toledo to the Dayton area. Penn National recently opened a full Las Vegas-style casino in Toledo and is opening one shortly in Columbus. The company doesn't want its racetracks to compete with its casinos.
The facility shouldn't be viewed as "the panacea to solve all of the economic woes" of the area but will be beneficial to nearby businesses, particularly hotels and restaurants, Wilmott said.
In terms of Hollywood wages, Wilmott said entry-level beverage servers are generally paid about $6 per hour plus tips, slot attendants between $10 and $12 per hour, while the head of accounting's salary could range between $60,000 and $70,000.
The company will break ground on Hollywood Slots in the fall and be ready to open it during the first half of 2014, he said. If the area has a mild winter, more construction work can be done and the facility would likely open in the first three months of 2014, he said.
Penn National won't use the racetrack for entertainment events, opting to use an indoor facility it will build, Wilmott said.
Also, the company has no plans to build a hotel, even though there is enough room to construct one, Wilmott said.
"There are enough hotels surrounding us," Schippers added.
There isn't a need for an on-site hotel, Wilmott said.
The facility will attract people willing to drive up to 30 to 40 minutes each way with the average customer spending about $80 to $90 during a three- to four-hour visit, he said.
The company is conducting a transportation study to determine if there will be traffic problems as the facility's entrance is close to a busy I-80 interchange, Wilmott said.
There should only be a "minimal cost" for infrastructure improvements, which the company would pay, Schippers said.
Wilmott compared the site to a "shopping mall," and said there isn't a starting and ending time. When it was pointed out that horse races have starting times, he said most visitors to the facility are interested in playing the slot machines.
Also, the two Penn National officials questioned how Internet sweepstakes businesses, commonly called Internet cafes, are allowed to operate. Customers pay for Internet time on machines to win prizes.
"It is a form of gambling that has not received legislative approval," Wilmott said.
Schippers said they're "illegal" and that Penn National is "highly focused" on having the state pass legislation to shut down Internet cafes or "enforce the laws on the books."
Schippers and Wilmott said Internet cafes give gambling a bad image.