Good Samaritans surprise Ajeenah Seifullah, family with house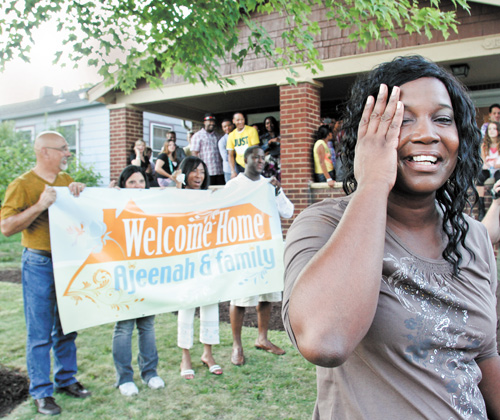 ---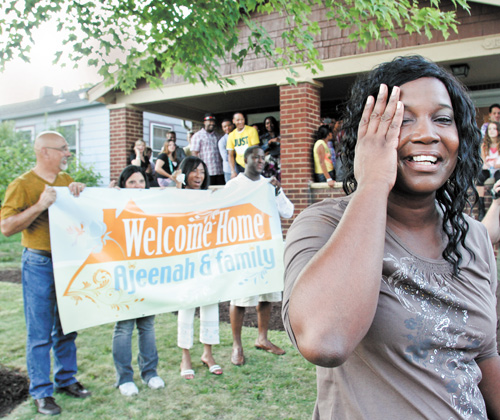 Photo
Ajeenah Seifullah is overcome with joy Thursday evening after being presented with a surprise: a house for her family. The house on East Florida Avenue in Youngstown was donated by a church member, and other members from Victory Christian Center in Liberty helped to fix it up.
By LINDA M. LINONIS
YOUNGSTOWN
In a matter of minutes, Ajeenah Seifullah went from "making do" in a temporary living arrangement to having her own house on the South Side.
The single mother with four children got the gift of a lifetime during a surprise presentation Thursday night.
The revelation unfolded after Pastor Lock P. Beachum Jr. and his wife, Gloria, and children, Patterson, 8, and Nyomi, 6, took Seifullah and her family out to dinner. Her children are Selah Seifullah, 13; Jaheem Hughes, 10; Alana Seifullah, 8; and Matthew Kitchen, 5. The Seifullah family attends Victory Christian Center in Liberty, where Pastor Beachum is senior pastor.
Seifullah's excitement was shared by those who worked on the house on East Florida Avenue and church members who gathered to welcome the family.
Pastor Beachum said he told Seifullah he had to make a stop — but little did she know it was to her new home.
When Seifullah was told why they stopped at the house on East Florida, she was amazed and her children were all smiles. "I'm so thankful to God," Seifullah said as tears welled in her eyes. "He's been so good to me."
Roland Littlejohn of Youngstown, Seifullah's father who was hosting his daughter and family, said he was happy to have them. But he knew she wanted a place of her own. "She knows how God works," he said.
Seifullah's sister, Jada Carson of Boardman, also was on hand. "This is truly a blessing for her."
The family was greeted by a big welcome sign. Those who worked on the house, including the anonymous donor who bought the house, shared the joy. "I can't believe I actually have a house," Seifullah said, adding "but I've seen how the church works."
Pastor Beachum explained how the gift house developed. He said a young man in the congregation approached him about six months ago. "He told me he believed 'the Lord wants him to gift a house to the church.'"
For the entrepreneur, in his early 30s, the pastor said, "it was as simple as that."
The young man asked Pastor Beachum to select the recipient. "I was in a state of shock. People bless the church in many ways but I was blown away by this blessing," Pastor Beachum admitted.
The two-story brick house has four bedrooms, living and dining rooms, family room, garage and a yard.
"Single mothers with children tug at my spirit," Pastor Beachum said. "Ajeenah came to mind."
Through conversations with Seifullah, Pastor Beachum learned about Seifullah and her circumstances. "I was beyond excited," Pastor Beachum said when he realized Seifullah would be the choice for the amazing gift. "She's a kind, hard-working woman," he said.
Seifullah is a nurse's assistant at Humility House in Austintown; she is studying to be a registered nurse.
Pastor Beachum said he enlisted Kevin and Mandy Diaz, church members, to coordinate the house project. Mandy Diaz is an administrative assistant at the church.
"Kevin gets things done," Pastor Beachum said. "Taking charge is exactly what he did," the pastor said.
"I was excited to be involved and do something to help," said Kevin Diaz, a contractor.
Working in secret, the house helpers installed a new furnace, water heater, windows and carpeting. They painted and furnished the rooms.
But help didn't stop there, Pastor Beachum said. Victory Christian in Lowellville bought a stove, refrigerator and dishwasher and other church campuses made contributions. The pastor said gift cards and donations also came from Big Lots, Bed, Bath and Beyond, Wal-Mart, Sam's Club, Giant Eagle, Banner Supply, Goldstein's, Sleepy Hollow, Eagles Rental and Morgan Furniture.
"We wanted it to be ready before school started," Pastor Beachum said.