Murder victim Jamail Johnson's mom finds solace in Jones verdict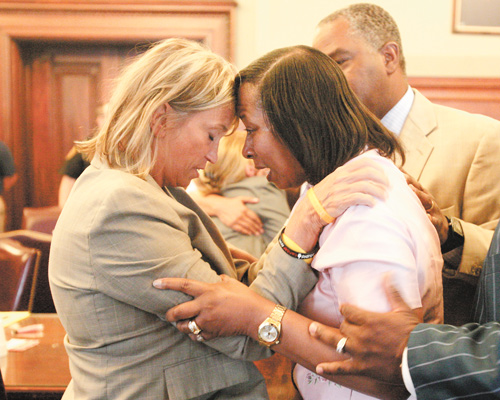 Photo
Rebecca Doherty, chief of the criminal division of the Mahoning County Prosecutor's office, left, and Shirlene Hill, mother of murder victim Jamail Johnson, embrace after a jury on Wednesday convicted Columbus Jones Jr. on all counts.
By Denise Dick
Youngstown
The mother of a Youngstown State University student shot to death in 2011 says the conviction of one of the men accused in the crime means her son didn't die in vain.
"He stood for what is right, and I stand for what is right," Shirlene Hill, mother of victim Jamail Johnson, said Wednesday after jurors convicted Columbus Jones Jr., 23, of Johnson's murder.
"I believe in God Almighty. I believe in the justice system, and I believe in the United States," she said.
The Mahoning County Common Pleas Court jury also convicted Jones of 10 counts of felonious assault and one count of discharging a firearm at or into a habitation. All of the charges include specifications that a gun was used.
Judge John M. Durkin will sentence Jones at 1 p.m. today.
The murder charge carries a sentence of 15 to years to life, and each of the other charges carries a maximum of eight years. Each firearm specification includes another possible three years behind bars.
Johnson, 25, was shot and killed and 11 others were injured Feb. 6, 2011, when gunmen fired into an Indiana Avenue house where members of a YSU fraternity were hosting a party.
Three others also were charged in the crime. Jones' brother, Mark Jones, and Jamelle Jackson are scheduled to be tried separately. Another defendant, Braylon Rogers, has pleaded guilty to illegal gun possession, and prosecutors recommended he get probation in exchange for his testimony in the other cases.
Jones whispered, "I love you too," to one of his family members as Mahoning County deputy sheriffs escorted him from the courtroom.
Testimony in Jones' trial started last week, and YSU President Cynthia E. Anderson attended each day of the trial and the reading of the verdicts.
Hill and other members of Johnson's family hugged Rebecca Doherty, chief of the Mahoning County Prosecutor's office's criminal division; and Dawn Cantalamessa, also an assistant county prosecutor, after the verdict, thanking them for their work.
Hill said that since her son's death, she has tried to keep his memory alive, talking to church groups and parents about nonviolence. She also contributes to programs for students at Woodrow Wilson Middle School.
Johnson tutored Wilson students, and after his death several of them wrote letters and made cards telling about the effect he had on their lives.
Both Hill and Johnson's father, Earl Johnson, hope for the maximum sentence for Jones.
"It means the world," Earl Johnson said of the conviction.