Pumpkin pride at the fair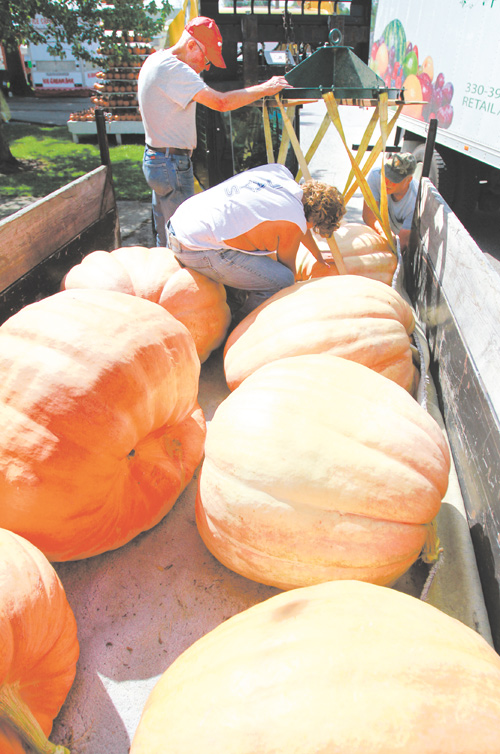 ---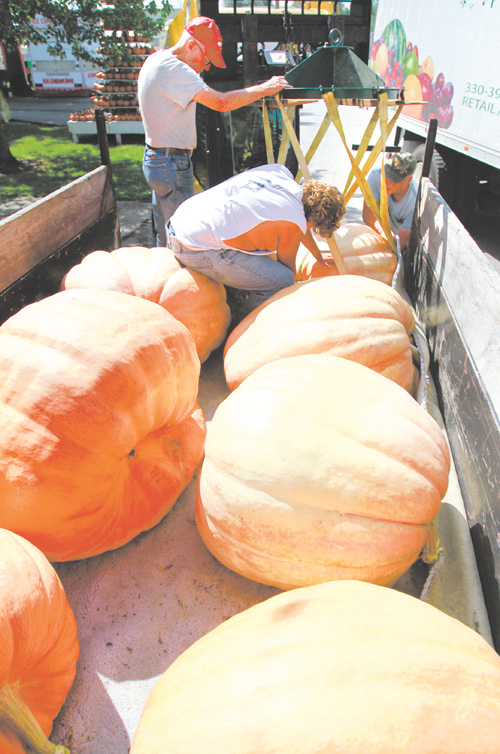 Photo
Jack Lanterman, left, Rick Lanterman and Charles Lanterman unload giant pumpkins from a truck at the Canfield Fair. The pumpkins are on display there. The fair began Wednesday and continues through Labor Day.
RELATED: I'd better stick to writing about pumpkins
By Ashley Luthern
aluthern@vindy.com
CANFIELD
At a fair where everything from cinnamon rolls to midways is big, one exhibit reigns supreme: the giant pumpkins.
Frank Lanterman of Austintown has entered pumpkins in the fair for the last 16 years, and he said it all started when he visited the Canfield Fair as a child.
"When I was a little kid, I couldn't wait to see the pumpkins and walk through the display. I'd stand there and look at the display and there would be the king and queen pumpkin on a chair. I'd say, 'Wow, they're 200 or 300 pounds. One day, I want to grow those,'" Lanterman said.
Not only is Lanterman's pumpkin patch on New Road in Austintown big enough for three plants, one of them produced this year's grand champion, tipping the scale at 891 pounds.
Lanterman is a member of the Ohio Valley Giant Pumpkin Growers, a group that has gained worldwide attention for growing pumpkins bigger and better than others. The world record is 1,818.5 pounds, but the goal for the OVGPG is weighty: 2,000 pounds or 1 ton.
"We're here in flyover territory in the Midwest," said Tim Parks, who coordinates the OVGPG's annual weigh-off at Parks Garden Center in Canfield. "But we knew if we grew them bigger than everyone else, people would have to pay attention."
Like all farmers across the country, the pumpkin growers have battled dismal weather conditions, combined with the usual threats of insects, disease and vandalism.
"It's been a bad year for pumpkins. The soil was warmer with the heat, and the draught has taken its toll," said Alan Gibson, treasurer for the OVGPG.
Gibson pulled in a pumpkin at 771 pounds and was named the fair's reserve champion. The process to grow a pumpkin takes dedication, he said.
Seeds are usually planted in pots inside by late April and transferred outside in early May, when growers still have to watch for frost. Gibson said he usually puts sand underneath the pumpkins, in part to help them to grow flat on the bottom.
"Every day, we have to prune them and make sure they're growing straight. We'll bury all the vines in soil except the main one to create a double-root system," Gibson said. "That way they get really rooted; otherwise they'd move like a tumbleweed."
By August, a good pumpkin will add between 25 and 35 pounds a day, but if it grows too fast it risks splitting.
"We grow them usually half organic and half with some type of chemical, if it's needed," Gibson said.
When a pumpkin stops growing — growers estimate weight by measuring the pumpkin's circumference — it's usually set aside for the Canfield Fair.
Pumpkins usually are hauled to the fair on the bed of pickup trucks, and when they arrive, a team of four men connects a seat-belt-like harness around the rotund vegetable and a forklift carries it to a scale, setting it down gingerly. The fair record is 1,277.5 pounds set in 2010.
The pumpkins that keep growing and stay intact are headed to the OVGPG's annual weigh-off Oct. 13 at Parks Garden Center.
Jerry Rose of Huntsburg Township is planning to enter the October competition. Even though his name appears on the Canfield Fair historical winners board, he didn't entered any pumpkins in the fair this year. He started with nine pumpkins; he has three left.
"I lost three on one Sunday. They were putting on 45 pounds a day and they just split. That day I said to my son, 'I'm going to take a break from pumpkins,'" he said.
"When you lose one you think of how many hours you've wasted, making shade structures, pruning, weeding, when you could have been fishing or whatever," Rose continued.
But Rose isn't sure if he could truly stop growing the giants.
"I've been growing since I was 11 and I'm 43 now; I've never missed a year," Rose said.
Lanterman said he's saving his last pumpkin for the weigh-off.
"It's the best plant I've ever grown. It pollinated, but the pumpkin was scratched by a raccoon and it exploded. With the really hot summer, as more pumpkins grew on the vine, they aborted off the plant," Lanterman said.
But now, 32 feet out on the vine, Lanterman has his third and final pumpkin.
"I put ice on it, fanned it and had two shade covers over it, and right now it's sitting at 700 pounds and still growing. I hope it gets up to 1,000," he said.
Lanterman, Rose, Gibson and other members of the growers' group will take turns stationed at the pumpkin display, located in building 3, to answer questions and sell seeds with proceeds benefiting the group.
Craig Myers, fair board member in charge of the pumpkin display, said he is grateful for what the growers are showing this year despite the rough season and that the pumpkin display is one of the most popular exhibits year after year.
"It's something that everyone can compete in. You don't have to have a farm or agricultural background, and everyone has fond memories walking through the pumpkin barn," Myers said.