Ex-Mahoning engineer Lyden: I wasn't treated fairly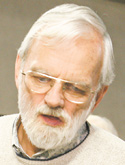 ---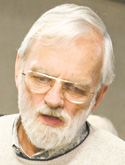 Photo
YOUNGSTOWN
J. Robert Lyden of Canfield, Mahoning County's former sanitary engineer, complained that county officials did not treat him fairly when they investigated him and abruptly asked him to leave his position Friday.
"I'm disappointed that I had absolutely no notice and no opportunity to justify any actions or deny any charges," Lyden said Wednesday, adding that he underwent no discipline during his county employment.
Lyden left under a cloud of allegations concerning favor- itism toward Dave Sugar Excavating Inc., of Petersburg, and concerning Lyden's relationship with a female heroin addict, who is charged with extorting money from him.
Lyden said John A. McNally IV, chairman of the county commissioners, called him at 8 p.m. Thursday and told him the commissioners desired to "move in a new direction" with regard to the sanitary engineer's job and asked him to turn in his county vehicle by 4 p.m. Friday.
McNally said Thursday was a busy day for him and he tried twice, unsuccessfully, to reach Lyden by telephone at the sanitary engineer's office during business hours Thursday afternoon. McNally said he never went to the sanitary engineer's office to talk to Lyden in person about the commissioners' decision "because my schedule wasn't working out that way that day."
Lyden said McNally could have reached him on his cellphone during those hours, even if Lyden was at a construction site or sewage treatment plant.
McNally said he told Lyden he would either have to resign and depart by 4 p.m. Friday, or the commissioners would conduct a special meeting Monday to decide what action to take concerning his employment.
"I'm very angry. I'm angry at the county. I'm angry at Bob" for his actions, said Lyden's wife, Mary "Roby" Lyden, who ran unsuccessfully against McNally in the 2008 Democratic primary. "They gave him [Lyden] no opportunity to explain himself in any way," she said of county officials.
"Nothing I've done in this case has anything to do with any political differences," said McNally, who cast the sole dissenting vote against hiring Lyden as sanitary engineer in September 2010 at an $85,000 annual salary.
The sanitary engineer is appointed by, and serves at the pleasure of, the county commissioners.
McNally and Commissioner Carol Rimedio-Righetti said they decided Lyden should leave based on a report they had requested from Rachel L. Livengood, county human resources director, which said Lyden was showing favoritism toward Sugar.
Livengood acknowledged in her July 12 report to the commissioners that she never discussed the allegations with Lyden.
Lyden said that he was unaware of any attempt by Livengood to interview him during her probe. Livengood and Sugar could not be reached for comment.
Based on the interviews and review of documents she conducted, Livengood concluded that "Sugar enjoys a relationship with the Mahoning County sanitary engineer, Robert Lyden, that provides a level of access that is not available to other vendors."
She added: "This relationship appears to have resulted in expedited payments to Dave Sugar Excavating, access to proposed plans for unbid projects" and plan design changes that don't follow the customary change order process.
"I was trying to get a fair shake for Dave Sugar and any [other] nonunion contractor in Mahoning County," Lyden said of sewer and water supply line construction projects.
"There's a strong feeling that only union contractors should get jobs in Mahoning County," Lyden said, noting that the county commissioners have passed a project labor agreement policy, which requires contractors be unionized if the job's value is more than $1 million.
David Sugar Sr. was sentenced to 30 days in prison and fined $10,000 by a federal judge in 2003 after Sugar pleaded guilty to lying to a grand jury about whether his company billed and received payment from former U.S. Rep. James A. Traficant Jr. for about $11,000 worth of work at the then-congressman's 76-acre horse farm in Greenford.
The allegations concerning Lyden's relationship with a heroin addict were investigated by Canfield police, who charged Gloria J. Prottengeier, 37, of Salem, with extortion, a third-degree felony.
Prottengeier waived her preliminary hearing and was bound over in April from Canfield court to the Mahoning County grand jury, but she has signed a waiver of the 60-day time limit between her bind-over and the presentation of her case to the grand jury.
In a Wednesday interview, Lyden denied Prottengeier's allegations that he met her in a county vehicle and that he bought heroin for her, calling the allegation that he bought heroin for her "absolutely ludicrous."
In their report, Canfield police detectives said Lyden told them he paid Prottengeier for sex and does not know why she denied that. Police also said Lyden admitted meeting with her in his county-issued vehicle, speaking with her on his county-issued telephone and meeting with her on county work time.
Police said Prottengeier admitted extortion, so they filed the charge.
Police said they filed the charge despite Lyden's request that the case be closed without the filing of criminal charges, if Prottengeier agreed not to call him anymore, because he feared discipline by the county if the criminal case against her went forward.
Prottengeier and her lawyer, Thomas E. Zena, could not be reached for comment.
Lyden has not been charged with any crime.
Mahoning County Prosecutor Paul J. Gains said he spoke with Canfield Police Chief Chuck Colucci and with officials of the Ohio Bureau of Criminal Identification and Investigation concerning the case.
"Everybody's in agreement that it does not rise to a criminal level," Gains said of Lyden's alleged use of a county vehicle and telephone in his relationship with Prottengeier.
"The woman making the allegations is charged with a criminal offense," Gains said. "There's no independent evidence to corroborate what she claims occurred."
Gains declined to comment on why the Prottengeier case has not yet been presented to the grand jury or whether anyone other than Livengood is investigating the allegation of favoritism for Dave Sugar.
Righetti said she was unaware of the allegations in the Canfield police report when commissioners decided to ask Lyden to leave his job.
McNally said he had heard rumors about the Canfield allegations, but he said Canfield police declined to discuss them with him during the weekend before McNally asked Lyden to leave his job.
Commissioner Anthony T. Traficanti declined to comment.