Penguins believe in themselves as they prepare for Pitt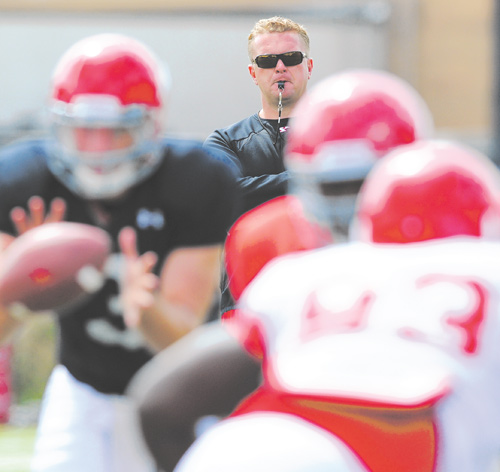 ---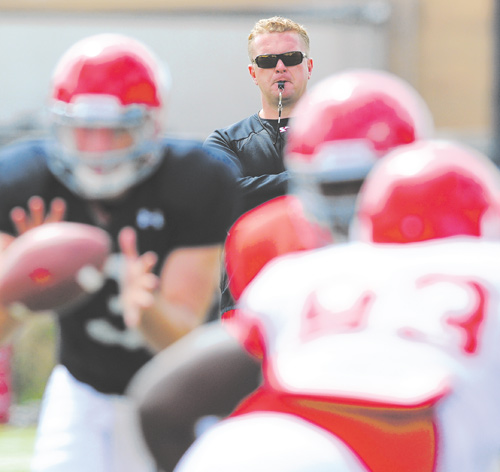 Photo
Under head coach Eric Wolford, the Youngstown State football players have gone from being competitive for a half (against PSU) or three-quarters of a game (against Michigan State) to believing that they have a chance to pull the upset on Saturday at Pitt.
Penguins believe in themselves as they prepare for Pitt
By Joe Scalzo
YOUNGSTOWN
Two years ago, the big question surrounding Youngstown State's game against Penn State was, "Would the Penguins score a touchdown?"
"I thought that was the most bizarre question I've ever had," YSU coach Eric Wolford said. "I was like, 'Yeah, we're gonna score a touchdown.' "
The Penguins scored two touchdowns in that game — their first since they started playing guarantee games in 2005 — and, under Wolford, have gone from being competitive for a half (against PSU) to being competitive for three quarters (against Michigan State last year) to believing they have a chance to pull the upset on Saturday at Pitt.
"It's just a process of changing what people expect when they see Youngstown State play," Wolford said. "Over that process, I think the players started to believe, 'Hey, maybe the coaches know what they're talking about. Maybe they havee some pretty good schemes.'
"As we've physically developed — we're a significantly different-looking football team — now we can legitimately expect to go down there and compete at a high level."
Junior quarterback Kurt Hess, who was a redshirt freshman when YSU last played Pitt in 2009, said even the fans seem more confident heading into Saturday.
"Definitely, I do get that sense," Hess said. "Just talking to the guys in the locker room and talking to some of my friends here on campus. They're like, 'Hey, you guys did great the last two years, but this year we're really expecting a lot of out of you.'
"I hear more people are buying tickets to this game. Probably because it's closer, but I think they really want us to go out there and give it our best shot and they believe that we can win."
The Penguins are 0-7 in guarantee games and 19-25-1 overall against Football Bowl Subdivision teams, with the last win coming in 2000 against Kent State. Pitt is 10-0 against Football Championship Subdivision teams but got a scare last season against Maine, holding on for a 35-29 victory.
Although most of YSU's starters played in last year's game in East Lansing, Wolford said he'll give his players 10 minutes on Saturday to walk around Heinz Field and get used to the surroundings.
"I think that's important to do in that type of arena," he said. "You get all that 'ooh-aah, ooh-aah' out of there, then you can go in [the locker room] and flip the switch and be ready to play."
Wolford wasn't asked whether he expects to score a touchdown this week. Instead, he was asked how much he's been able to close the talent gap between YSU and a BCS school in 21/2 years.
"We'll find out on Saturday, you know what I mean?" he said, chuckling. "But I feel good about our ball club. We've got a good football team.
"We're going to play hard and compete and let the cards fall where they may."