You say tomato, but other saucy selections abound
---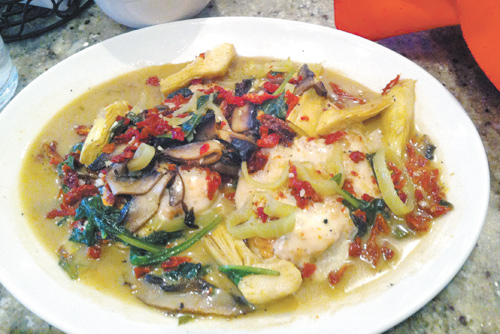 Photo
Carmella's Cafe offers a tasty Chicken Carmella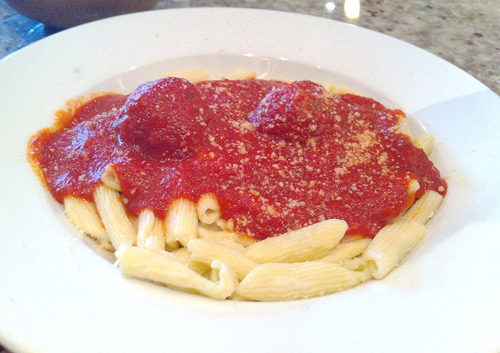 Photo
Cavatelli with Meatballs at Carmella's Cafe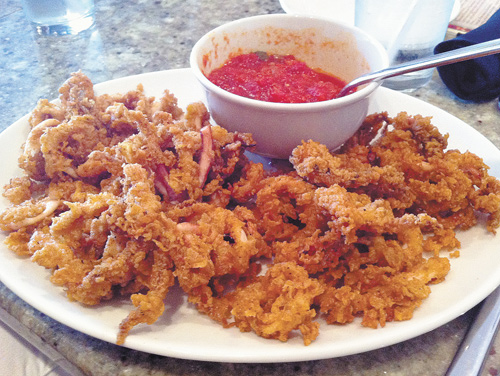 Photo
Calamari at Carmella's Cafe
IF YOU GO
Location: Carmella's Cafe.
Address: 850 E. Western Reserve Road, Boardman, OH 44512.
Online: www.carmellascafeyoungstown.com.
Hours: Monday through Thursday, 11:30 a.m. to 9 p.m.; Friday and Saturday, 11:30 a.m. to 10 p.m.; and Sunday, 3 to 8 p.m.
Pasta always tastes better on Sunday. At least that is what my wife keeps repeating to me week in and week out. I think pasta tastes good any day of the week, but that is because I was brought up eating it as often.
My Sundays consist of starting a sauce after Mass in the morning and then working out my arms rolling flour and eggs together until I get some homemade noodles. As my sauce cooks down meatballs, sausage, short ribs and country ribs, our house is filled with my favorite scent that you couldn't buy in a candle. However, this Sunday we started our day off with the Panerathon 10K, so my chances of having the energy to do anything after were slim, but my chances of eating a lot were fantastic. When dinner rolled around we needed our carb fix, and on the suggestion of my friend Brian Pfau, we headed to Carmella's, on Western Reserve Road, for this week's Food:30.
Carmella's is a newer Italian restaurant that my wife and I had not been to yet. When you walk through the door you are immediately hit with the smell of fresh sauces and seafood filling the air; as I stated before, a welcoming smell to my nose any day.
As we turned the corner I saw what I consider a trend in this area for Italian places to bypass normal framed images and use an entire wall to make you feel as if you were on the hillside of some small town in Italy looking out. A beautiful mural covers the entire back wall, and with the sounds of Italian music as the background noise, the only way to get closer to Italy is to actually be there.
We started our dinner off with some Calamari ($7.99) generously portioned with a marinara dipping sauce. The light breading on the calamari had a hint of pepper that I thought went nicely with chunky marinara sauce. This sauce had a nice sweetness to it with a basil finish that, for me, complemented the calamari well.
For dinner I wasn't quite in the mood for a tomato sauce and decided to go with a dish that had a lighter sauce to it. That dish turned out to be the Chicken Carmella. It is two chicken breasts served with sun-dried tomatoes, portobello mushrooms, spinach, and artichoke hearts smothered with provolone cheese all over a garlic wine sauce.
The chicken took on flavors from the garlic wine, and the combination of sweet, spicy and sour flavors from the toppings went great together in this dish. I like to see a little out of the box thinking in pasta, and the addition of artichoke hearts really added a nice sourness that you would expect from a bold ingredient. I think it pushed the boundaries of what would have been just another pasta and white wine dish.
Stephanie went with her standard choice for pasta in the Cavatelli ($12) and meatball served with a side salad. Anytime you get into a dish with two elements to it, it's hard to describe it as being out of the ordinary.
She enjoyed it but thinks that she would rather have had another one of the pastas with more depth to it. Something like the Tortellini Alla Carbonara or the Homemade Meat Lasagna would have had more ingredients to really boost the flavor and complexity of the dishes. She has come to blame me for her pickiness in pasta dishes because of my pasta Sunday traditions, and when we eat Italian she is in the mood for pasta but can never quite make the right decision.
For our first visit I was impressed with the authentic flavor and dishes from Carmella's. The menu has a variety of choices that gets into steaks, veal, seafood and a half-dozen or so pasta-based dishes. I will be going back for another taste, as my choice that night was a difficult one, always a good sign in my book. If you want to try something new with a great family atmosphere, make Carmella's your next pasta night out!
Our food blog is @ www.vindy.com/news/valleyfood
More like this from vindy.com