Jackson standout dominates Mooney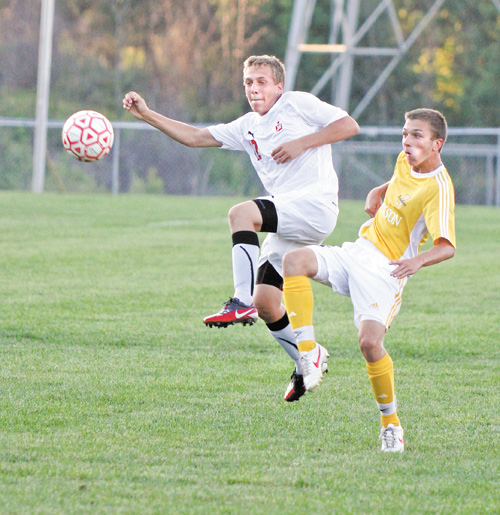 ---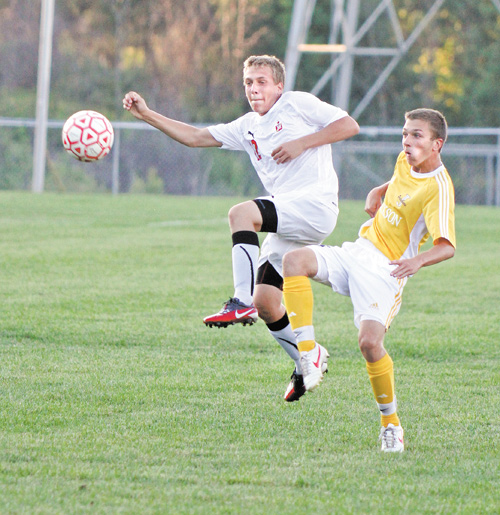 Photo
Cardinal Mooney's Michael Trefethern (12) and Massillon Jackson's Patrick Zonfa (9) go for the ball Tuesday at Valley Sports. Below: Mooney's Nicholas Koken (3) and Jackson's Grant Slovan (19) battle for the ball. Jackson won, 5-0.
STRUTHERS
One of Ohio's top boys soccer teams paid a visit to Cardinal Mooney at the James J. Simon Sr. Soccer Complex Tuesday night. Unfortunately for the Cardinals, Massillon Jackson brought one of America's best players along with it.
James Haupt and the Polar Bears dominated the injury-riddled Cardinals, 5-0. Haupt scored Jackson's first three goals and assisted on the fourth for the Polar Bears (2-1-1).
"They beat us in every aspect of the game," Mooney coach Lou Cali said. "They out-hustled us, they out-played us, they out-coached us and our kids are really ticked off right now."
The Cardinals (3-1) had planned for Haupt, but he was effective anyway.
"We knew what we were in for today," Cali said. "James Haupt is an unbelievable player. We had schemed as to what we were going to do, but the three goals that he scored were quality."
Eight minutes into the contest, Haupt gathered a loose ball from his forward position. He took three dribbles to his left and unleashed a 20- yard rocket with the left foot, off the fingertips of Mooney goalkeeper Robbie Billett. The ball struck the far goal post and found the net.
The Cardinals settled in after falling behind. Dom Dimuzio's attacking runs from his right defensive position created several opportunities for Mooney, but the Cardinals couldn't convert.
A 45-minute injury delay broke the game's rhythm, but Mooney responded with perhaps its best opportunity.
Senior Byron Abrigg broke loose along the right sideline and launched a perfect cross towards goal. Jackson's keeper left his line and snatched the ball away from a pack of Mooney forwards.
"They (Mooney) were out-possessing us in the first half," Haupt said.
Clayton Walker's first-half injury further added to the Cardinals' injury woes and interrupted their midfield passing.
Ninety seconds later, Haupt headed home a Ross Klauer cross for his second goal and a 2-0 lead at halftime. They were his first two of the season.
"I haven't scored a goal all season so I kind of felt like I needed to step up tonight," Haupt said. "I had some opportunities and I put them away."
Jackson's offense worked through the 83rd-ranked player in the country — according to Top Drawer Soccer — for most of the evening.
"I think the midfield did a good job getting him some steady service today, good spots to get some good looks at the goal," Jackson coach Mike Birose said.
The Polar Bears won the Federal League championship and an Ohio Division I district title in 2011.
Just over six minutes into the second half, Edan Sablovic fed Haupt a pass on the run. The Division I college recruit weaved his way into the 18-yard box and sent a right-footed blast across his body for a 3-0 advantage.
With 10 minutes remaining, Nick Sundheimer headed home a deadly accurate Haupt corner kick. Max Pollack finished the scoring with 3:39 to play.
The Cardinals, who play one of the state's strongest schedules, will be without stalwarts Pat Price and Jake Payne for at least another month.
"Our effort was there, but they understand there's a lot of things that need to be fixed," Cali said. "They're ticked off and in the long run, I have a feeling this is going to be a positive for us. We just need to get healthy."