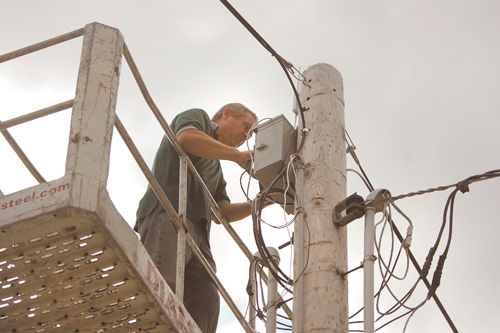 ---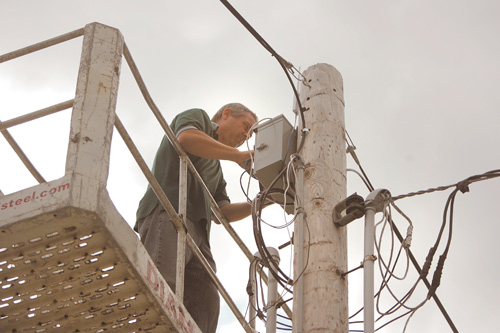 Photo
Dave Peters of Enhanced Network Solutions makes the final wireless Internet hookups at the Canfield Fairgrounds' trailer park. Beginning today, those staying at the trailer park will be able to purchase Internet access for $10 per day or $30 for the entire six days. Timm Schreiber, fair board member, said if all goes well this year they will look into making the entire fairgrounds wireless.
By Elise Franco
efranco@vindy.com
CANFIELD
Patrons will have up-to-date technology at their fingertips as they approach tHe gates of the 166th Canfield Fair, which begins today.
This year fairgoers will have the ability to download a free Canfield Fair mobile application for their Android or Apple's iOS smartphone, said George Farris of Farris Marketing in Boardman.
He said the app is basically a mobile version of the Canfield Fair website, www.canfieldfair.com, but with a few interactive twists — most notably a car locator feature.
"The main thing people asked for was a feature to help find their car, so that was the first thing we set out to accomplish," he said. "You just save that location on the app, and when you're done it will direct you to your car from wherever you are in the fair."
Farris said the app also will allow fairgoers to find other locations using the map, such as ATM machines, restrooms, streets and specific buildings. He said people have the ability to vote in the Best of Fair contest and submit photos to the Fair Memories gallery, which is displayed on the fair website.
"It's our charge to develop these kinds of things," he said. "We started with the website, and we incorporated social media, so we're trying to reach out to people in a number of ways to make the fair experience better overall."
And, if you're staying on the campgrounds during fair weekend, you'll have quicker access to the new app.
Timm Schreiber, fair board member, said wireless Internet was installed on the campgrounds this year.
"We've had a lot of requests for Internet servers at the trailer park," Schreiber said. "We've been successful in the past two years in running Internet to our gates to use credit cards, and we finally figured a way to run off that system to the campers."
Schreiber said those people will be able to pay $30 to use the Wi-Fi access for the full six days, or they can pay $10 per day. He hopes this is the next step in making the entire fairgrounds wireless.
"How this goes will determine if we can open it up inside the grounds," he said. "It's another piece of the puzzle that's pretty exciting."
Schreiber said it's important that the board keeps the fairgrounds updated with current technology because many people, especially younger generations, are always connected.
"We're seeing changes in technology that are historical, so we've got to be on the forefront of that bandwagon," he said. "We're way ahead of the other fairs in Ohio in that aspect, and we're pretty proud of it."