---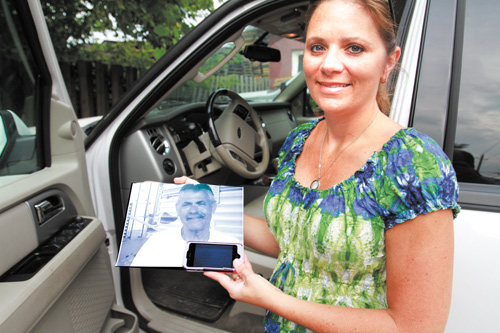 Photo
Tina Yanssens holds a picture of her father, Dave Muslovski, who was 55 when he was killed by a driver who was texting. Yanssens and her family lobbied for a texting-while-driving ban in Ohio. One targeting young drivers takes effect Friday.
Youngstown
Texting while driving becomes a crime in Ohio starting Friday, when House Bill 99 takes effect.
For Tina Yanssens, the new law is the end of one road but the beginning of another. Her father died when a texting driver ran him over during a walk near his Springfield Township home the morning of June 17, 2010.
Yanssens calls the law a good start but says she'll lobby for a stronger one.
Others also are saying the law, which targets young drivers the most, will evolve.
The Aug. 7 sentencing of Whitney Yaeger, 22, of Springfield Township for the death of Yanssens' father, Dave Muslovski, 55, was some closure for Muslovski's family, which had pressed tirelessly to have Yaeger punished to the maximum.
More closure came when Yanssens and her mother, Denise Muslovski, watched while Gov. John Kasich signed House Bill 99 into law June 1.
The new law is largely due to the efforts of Yanssens and other members of Muslovski's family, said Mahoning County Prosecutor Paul Gains.
The pair lobbied for two years to make texting while driving a crime in Ohio, and it's now the 39th state to enact a ban.
Starting Friday, there will be a six-month period when police will issue warnings. Then, texting while driving becomes a secondary offense for drivers 18 and older, meaning that they can be cited if they are stopped for another offense first.
Drivers under 17 are completely banned not only from texting, but also from using cellphones or other electronic handheld devices while driving. They can use a GPS as long as they don't manipulate it while they are driving.
All drivers still will be able to use cellphones to call emergency services.
The law also requires the driver's education classes to include instruction on the dangers of texting while driving, which will be a misdemeanor.
"Kasich said this is a good first step for Ohio, not the end of the road," Yanssens said. "I like the fact [the law] focuses on young adults," she added.
But she called the law a "mini-victory."
"I'll lobby for a stronger law by looking at statistics we gather through the existing law," she said.
Gains said he believes the law will be enforceable.
"The best thing is, the evidence is going to be there," he said, adding that phone companies have records of times texts were sent and received.
"Every case is going to be different," he added, saying that if an officer asks right after an accident whether the driver was texting, the officer is more likely to get an admission.
"People will be upset after an accident," he said, and more likely to give an "excited utterance."
Gains said he is glad the law passed. "Ideally, people would turn the cellphones off. But that's not going to happen," he said.
Lt. Anne Ralston of the Ohio State Highway Patrol called the law "a step in the right direction."
"The patrol is supportive of laws that make driving safer," she said. "We've always encouraged drivers to limit distractions. It doesn't take very much to accidentally drive left of center."
Major companies such as Verizon Wireless and AT&T say they support laws that ban texting and emailing while driving.
"When behind the wheel, safe driving is your responsibility and should always be your first priority," said Laura Merritt, manager of public relations for Verizon Wireless in Ohio, Pennsylvania and West Virginia. "We have been out in the forefront since 2000 in supporting laws to eliminate drivers' distractions while using wireless devices."
Verizon also supports state laws requiring hands-free devices while talking, it says in a statement on its website. AT&T is taking its distracted-driving simulator to Ohio schools this week to "demonstrate how impossible it is to text and drive safely."
In Canfield, a texting-while-driving ban has been in effect since October 2010, said assistant police chief Scott Weamer.
He said there have been "five or less" citations.
"It's not like speeding," he said. "It's not as easy to observe or detect, and we look for it coupled with erratic driving."
He said Canfield's ordinance is different from the state law in that it makes texting a primary offense for everyone.
An analysis of the state law by the Legislative Services Commission says the new law does not invalidate current municipal ordinances, such as Canfield's.
As does Yanssens, Weamer predicts the state law will evolve into a stronger one.
"I think this is the first version," he said. "They just want to get it on the books."